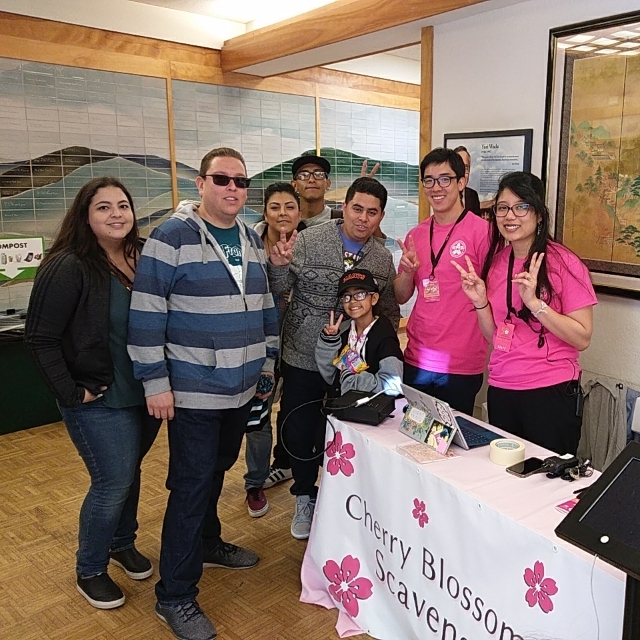 If you participated in the NCCBF Scavenger Hunt in the last two to three years, it's very likely that you were greeted by ClarizeYale's smile at the second floor entrance of the Japanese Cultural and Community Center of Northern California (JCCCNC/the Center).  ClarizeYale is a first-generation Filipina-American artist and illustrator, born and raised in San Francisco. She first started volunteering for the Festival in high school and has continued to support this annual event for over a decade! We are grateful for members like ClarizeYale for her commitment and the perspective she provides below on celebrating our various cultural traditions every day.    
My first experience with the Cherry Blossom Festival was when I was part of Japanese Community Youth Council (JCYC) in high school. I volunteered along with several other high schoolers and college kids by beautifying Japantown and getting it ready for the festival, helping set up the festival grounds, maintaining cleanliness, and helping in several other ways as needed.
But being that it's volunteer work, I chose to come back because the festival is a great way to experience Japantown and all the amazing culture it has to offer and learn from. Being that bridge between the people in attendance and the folks that make the festival happen has been fulfilling in helping others gain a wider appreciation and open mind to new things. Because of my affiliation with JCYC, and its proximity to Japantown, I was able to use that experience to gain more leadership skills while volunteering for the festival.
Over the past decade, I have been a high school volunteer, part of the Logistics Team, and Co-Chair to the Scavenger Hunt Committee. I would help out in as many ways as I could going beyond the roles I served.
I hope to see more younger people contributing to the festival in order to keep culture and tradition going and growing. As Americans, there's sometimes a disconnect from what it means to be Asian, and events like the Cherry Blossom Festival help others experience a culture that's sometimes only known for being on the other side of the world when in fact, it's right here, being celebrated in our own city. These traditions should not be something that's celebrated only once a year but live on in our daily lives because it's part of us even if we weren't born in that country. Although I am not Japanese, I have lived in Japan and appreciate the culture and I do the same with my own Filipino culture and heritage as well.
To see and support her beautiful work, connect with ClarizeYale through her website, Patreon, and Instagram.
To join the Festival in various capacities like ClarizeYale, contact us at prmarketing@nccbf.org.