The Northern California Cherry Blossom Festival is completely volunteer run. Every year, we rely on 500+ volunteers to help produce our Festival, plus a group of 40+ volunteers working year-round. To make our upcoming Festival a success, we need your help! Volunteers come back every year to donate their precious time and gain valuable work skills in committees ranging from logistics (event production) to the Grand Parade. We invite people of all ages and skills. Please let us know if you are bilingual in written and/or spoken Japanese. Opportunities to support our annual event are described below:
General Volunteer | PR/Marketing/Social Media
General Volunteer
We have opportunities to help with all aspects of the Festival, including committee-focused volunteer roles and day of festival volunteer shifts. Please send us an email to describe your volunteer interests for the Festival, and we will set up a meeting with you as soon as possible.
At the next in-person festival, the day of the festival volunteer shifts will assist the logistics committee in set up, registration, security, festival monitoring, and clean up. Sign up for one or more blocks of four-hour shifts! Perfect for people with a big heart for the community from high school to seniors.
Meet Logistics Co-Chair, Matt Nagatomi, to learn more about volunteering behind the scenes in his Committee Member Spotlight blog.
Northern California Cherry Blossom Festival Volunteer Sign Up
PR/Marketing/Social Media Team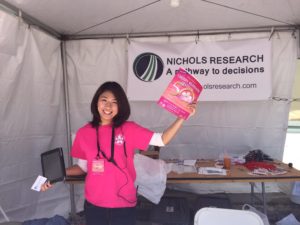 Do you have experience in Social Media or Marketing? Are you interested in promoting a community event? Look no further — the PR/Marketing team offers opportunities for people who want to use or develop their marketing and design skills. While we have four days of programming over two weekends, the PR/Marketing efforts are not limited to just the month of April. We appreciate volunteers who can contribute any amount of time and effort. Every year, we try new ideas and hope to have people like you to deliver them.