55th Annual Northern California Cherry Blossom Festival
April 9-17, 2022
Welcome to the Northern California Cherry Blossom Festival®, one of California's most prominent celebrations of Asian traditions and the largest Cherry Blossom Festival on the West coast. All are welcome to join in the festivities as we celebrate Japanese and Japanese American culture with you, live and in Person again!
Support our Festival by becoming a sponsor, volunteer, and/or attendee of this popular Japanese American community event. This event is free and open to the public.
Since 1968, the Festival serves to cultivate the continued alliance between Japan and the United States using culture as its bridge. Each year, over 220,000 people attend this dazzling display showcasing the vibrant colors and grace of the Japanese culture and the rich heritage and diversity of the Japanese American community.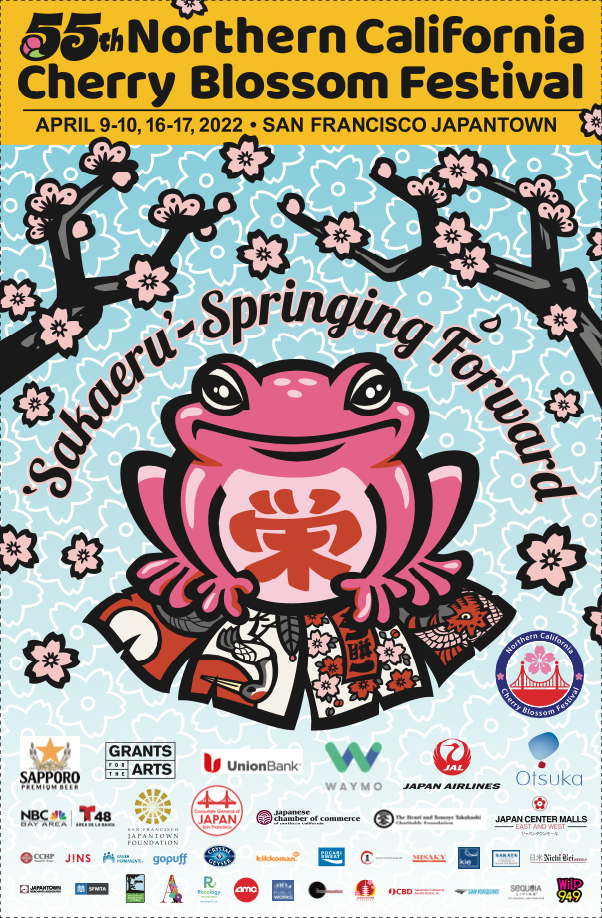 We are super excited to announce the festival's 2022 theme which is 栄える(Sakaeru), meaning to come back, flourish as a community, and festival. The tagline is "Springing Forward." It takes its cue from the poster's frog. In Japanese, Ka-e-ru is frog and they always spring forward. As for the meaning of this year's Kanji, the top of the kanji is light and the bottom represents a tree. Therefore, for a tree to flourish and become strong, it needs strong light, like that of the sun.