Food Bazaar 食べ物
The Northern California Cherry Blossom Festival's Food Bazaar is a crowd favorite. At a future in-person Festival, you will find the best Japanese outdoor festival foods prepared by Bay Area Japanese community organizations in this food area. All of your purchases go directly to support these nonprofit organizations. Do not miss this wonderful opportunity to sample popular Japanese sweets like imagawayaki and shaved ice, savory snacks like musubi and takoyaki, and hearty meals like unagi donburi and kitsune udon! Read the following blogs to find out about some of the festival food offerings and nonprofit organizations that participate.
On both Festival weekends, over 30 nonprofit organizations serve food and drinks on Webster Street between Post and Sutter Streets from 11:00 A.M. to 5:00 P.M. PT. Tables and benches are available nearby with live musical entertainment from the Webster Street Stage!
---
Sapporo Beer Garden サツポロ・ビールガーデン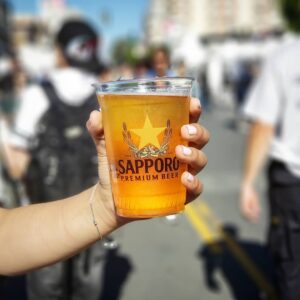 The Sapporo Beer Garden serves thousands of visitors every year. Beer flows from several serving points at the Festival, including the Food Bazaar and near the Japantown Peace Plaza and Webster Street Stage. At a future in-person Festival, enjoy a beer with your food and listen to the music beating from the Webster Street Stage!
The Sapporo Beer Garden Committee shared reflections and supportive messages to commemorate National Beer Day and reminisce on wonderful pours and great logistical teamwork.