Food Area
The Northern California Cherry Blossom Festival food area is a crowd favorite. The block along Webster Street, between Post and Sutter, is solely run by non-profit organizations. You can find the best of Japanese outdoor festival foods prepared by heart of the Japanese community. All proceeds benefit each organization.
This year's participating non-profit organizations and food items include:
Asian Pacific Islander Legal Outreach (APILO) – Potato on a Stick
Boy Scouts Pack & Troop 58 – Spam Musubi, Hawaiian Soda
Church of Perfect Liberty – Spam Musubi, Oi Ocha
Clarendon Japanese Bilingual Bicultural Program – Udon, Drinks
Hawaiian Chamber of Commerce of NC – Kalua Pig Sliders, Aloha Maid Fruit Juice
Hokka Nichi Bei Kai – Ice cream, Dango
Hula Sistas Kalua – Nachos, Butter Mochi
Japanese Community Youth Council – Mayor's Youth Employment & Education Program (JCYC – MYEEP) – Lumpia, Water, Soda
Kagami Kai – Shaved Ice, Fried Mochi
Kimochi, Inc. – Teriyaki Burgers
Konko Church – Imagawa Yaki (Pastry), Iced Coffee
Nihonmachi Little Friends (NLF) – Skewered Beef, Rice Balls, Juice
Pine United Methodist Church – Wafu Hot Dogs, Soft Drinks
ReAct Missionaires – Mochi Waffles, Lychee Slush
Rosa Parks Japanese Bilingual Bicultural Program – Sakura Popcorn & Snapple
SF Unified Lion's Club – Mini Donuts with topping, Coffee, Tea, Hot Chocolate
Soko Taru Mikoshi Ren – Unagi Donburi (BBQ Eel Rice Bowl), Tea, Water
Soto Mission of SF – Sokoji – Takoyaki
Sapporo Beer Garden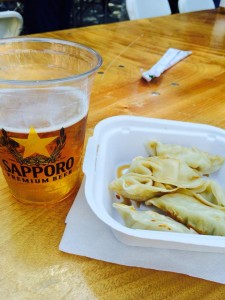 The Sapporo Beer Garden serves thousands of visitors every year. Beer flows from a few serving points at the Festival. Enjoy a beer with your food and listen to the music beating from the Webster Street Stage.