Experience contemporary and traditional styles of odori (Japanese dance) on the Japantown Peace Plaza Stage, the Japanese Cultural and Community Center of Northern California (JCCCNC/the Center) Stage, and the Grand Parade! The variety of odori is specific to different Japanese regions and festivals, like Awa Odori and Bon Odori. Some dance groups are performing ensemble groups with musicians in the Nihon Buyo and Minyo dance styles. The various styles of odori emphasize on slow and precise gestures and movements to pair with ensemble music for a beautiful showcase of Japanese culture and traditions.
The Festival features a variety of Japanese traditional dances to highlight our early Japanese heritage and allow odori to thrive for our present and future. At a future in-person Festival, find an opportunity to dance along in the audience such as Awa Odori dance!
Read about this year's performers on the 2021 Performer Profiles page.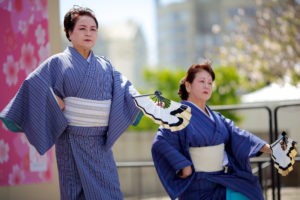 Nihon Buyo, or classical Japanese dance, is a theatrical drama with music and dance derived from the Kabuki tradition. Similar types of Kabuki music are seen in Nihon Buyo performances. Music types include Nagauta, Kiyonomoto, and Gidayu. Singers are accompanied by musicians who play shamisen, tsuzumi, and fue.
Minyo (Japanese Folk Dance and Song) has been handed down from generation to generation. These dances evolved from ancient traditions of dancing and singing to pray for good harvests and honor ancestors. Nearly every district of Japan has a rich heritage of songs that reveal the characteristics of the local people and their history. There are rice planting and fishing songs, as well as songs of carpenters, miners, sailors and craftsmen. Some lyrics praise scenic beauty, and others tell stories of historical figures and festivals.
Yosakoi is an energetic dance style that originated in Kochi, Japan, and performed in Japanese festivals worldwide. Every team wears vibrant, colorful costumes, usually happi or haori, and dances with props like naruko clappers. Dancers move in formations, naruko clappers in each hand, and chant phrases while dancing along to Japanese folk songs, like Yosakoi Bushi and Yocchore, and modern music.