2023 Marks the 35th year of the Northern California Cherry Blossom Community Service Scholarship. The program is for graduating seniors of Japanese descent. Administered by the SF Nikkei Lions, the program awards two $2,500 scholarships to deserving high school seniors going to college. This year's recipients – Elyse Fujii and Monet Gagnon – have shown a high degree of empathy for their community and a willingness to spend time extending themselves to address the needs of their community. Both Elyse and Monet have accomplished extraordinary academic records in their school years in addition to their willingness to "serve."
Elyse Fujii is a senior who is fluent in Spanish and is on the Principal's list from Lincoln High School in Stockton. She plans to study biochemistry and molecular biology at UC Davis. She has numerous commitments to the Young Buddhist Association along with years of service to the local community in Stockton. Elyse is also the president of the STEM Club as well as a member of the varsity basketball team.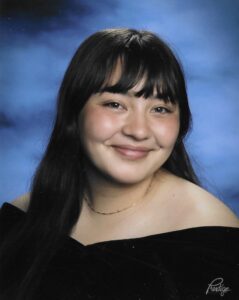 Monet Gagnon is currently attending Albany High School and is one of the first female Eagle Scouts. She has been recognized as an outstanding youth of the year in Albany as well as making the principal's list for the past four years. As Patrol leader, Monet has organized and trained a cohort of teens in the struggle against depression and anxiety.
Both of these young promising women truly represent the bright hope and future of Japanese America.