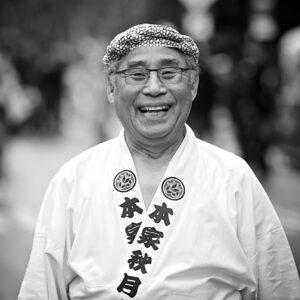 The NCCBF Executive Committee writes this tribute for Shogo Yamada, our dear friend and supporter for many years, who passed away last March. Many festivalgoers remember Yamada-san for leading his spirited Japanese folk music group, YamaSho Kai, or dancing along to Awa Odori with San Francisco Awakko-Ren at the Northern California Cherry Blossom Festival and other Japantown festivals, notably the Nihonmachi Street Fair and Osaka Matsuri.
Yamada-san was also a seasoned sushi master and ran Japantown restaurant favorite, YamaSho, an izakaya with lively karaoke lounges. Unfortunately, this restaurant is permanently closed. We miss him dearly, and send our deepest condolences and prayers to his family and friends, YamaSho Kai, and his restaurant family.
The Northern California Cherry Blossom Festival is so saddened to hear of the passing of longtime friend, performer and supporter, Shogo Yamada. He not only performed on our outdoor stages each year with the YamaSho Kai, but also led this ensemble to bring live music for the Obon dances at many festivals in Japantown. His love and passion to share his Osaka culture and music (Kawachi Ondo) as a true bridge will be sorely missed.

Yamada-san was a restaurateur in Japantown for many years. In a quiet and humble way, Yamada-san's generosity and support of the Festival was exhibited by being a host of many important festival guests from Japan at his restaurant, YamaSho. Our Festival and Japantown will truly miss his generous spirit, kindness, and support.

Northern California Cherry Blossom Festival Executive Committee
His ensemble, YamaSho Kai, is well known for performing cheerful folk song, Kawachi Ondo, with live instruments paired with Bon Odori dance, and encouraging the audience to dance along! The folk song originated in the Kawachi region (now modern day Osaka) of Japan with over 600 years of history. This band started out playing traditional Japanese instruments, taiko and shamisen, and they added contemporary sound with guitars, keyboard, and drums. Thank you Yamada-san and YamaSho Kai for bringing so much joy to our Festival and Japantown community!