Over the past several months, designer Selena Joe and the Festival's poster committee explored different designs to paint a beautiful art piece, and an important element was the kanji. Selena experimented with freedrawing the kanji and utilizing Japanese fonts, but we collectively wanted to capture the full essence of a professionally written kanji.
Recalling our dear friend of many years, Masato Kawahatsu, we kindly requested for him to write the kanji for the 2021 Festival theme, 絆 Kizuna – Strength through Bonds of Community and Friendship. Without a beat, Kawahatsu Sensei wholeheartedly agreed to participate, and we are truly grateful for his contribution to the Festival's poster and banner.
書道 Shodo or Japanese calligraphy is the fine art of drawing kanji characters with a brush and ink. Kawahatsu Sensei has described calligraphy as a zen meditative exercise; by clearing the mind you can create letters in a fluid motion to express your thoughts and feelings. Keep reading to learn how our Sensei got involved with calligraphy and our Festival for many years!
Q: Share a little about yourself.
A: I was born and raised in Japan, and I grew up learning various Japanese cultural activities and arts, such as martial arts, shodo, and tea ceremony.
I currently serve as the senior minister of Konko Church of San Francisco in Japantown, and as the head minister of Konko Spiritual Center of South San Francisco. About 20 years ago, I opened a school called Shin Shin Gakudo – The Way of Mind, Body, and Spirit. Shodo and martial arts have always been a large part of the curriculum, and I have enjoyed sharing this with many people over the years.
I teach eight virtues for Shin Shin Gakudo spiritual development: patience, humbleness, appreciation, selfless service, calmness, positive attitude, sincere prayer, and compassion. These virtues help us grow to live peacefully, so our world may be in a better place day by day. I want to share the ありがとうございます Arigatou Gozaimasu Movement, where you express saying thank you many times every day (a thousand times if you can) to gain a deep and mindful appreciation in your life.
Q: How did you start getting involved with the Festival?
A: Along with the Konko Church, I started the first Mikoshi purification ceremony in 1972. This ceremony takes place on the Festival's second Saturday, a day before the Grand Parade. We purify the Phoenix statue at the church, transport it to the ceremony in a procession of music and chanting, and bless the Mikoshi for the safety of the Festival participants and parade attendees. The 鳳凰 Houo or Phoenix symbolizes the power to overcome tough situations and inspires hope and faith. The San Francisco Taru Mikoshi Ren carries the Mikoshi as the parade finale!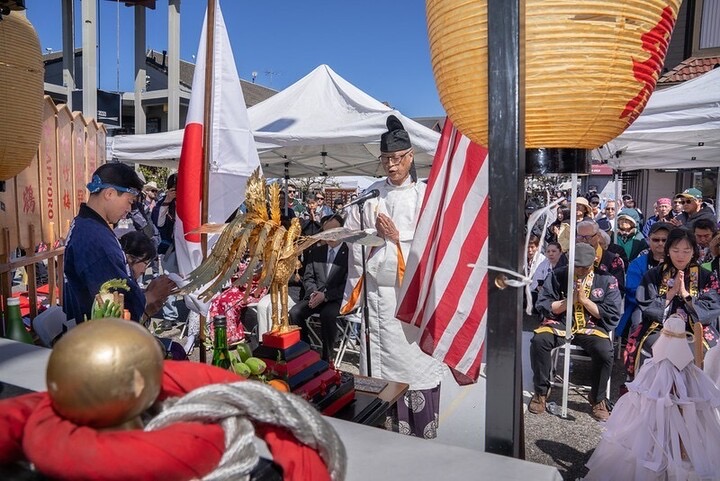 Each year, during the Cherry Blossom Festival Parade, I march along with the Japanese American Religious Federation (JARF) clergy and members. The Konko Church of San Francisco also sells crispy 今川焼き imagawayaki, pastries with sweet azuki bean paste filling, as our fundraiser at the Festival's Food Bazaar, and we always enjoy volunteering to help make these. Our church also sponsors the Boy Scouts Pack & Troop 58. The boy scouts also participate in the parade and fundraise with spam musubi.
About ten years ago in Japantown, I began to share my calligraphy through workshops sponsored by Japan Day Festival. Each year at Cherry Blossom Festival time, I set up a calligraphy booth in which we ask people to write their wishes on paper and hang them on a bamboo tree. We then take all the wishes and prayers and bring them back to Konko Church to offer to our altar where we pray for everyone. This booth is sponsored by the Taru Mikoshi Ren group.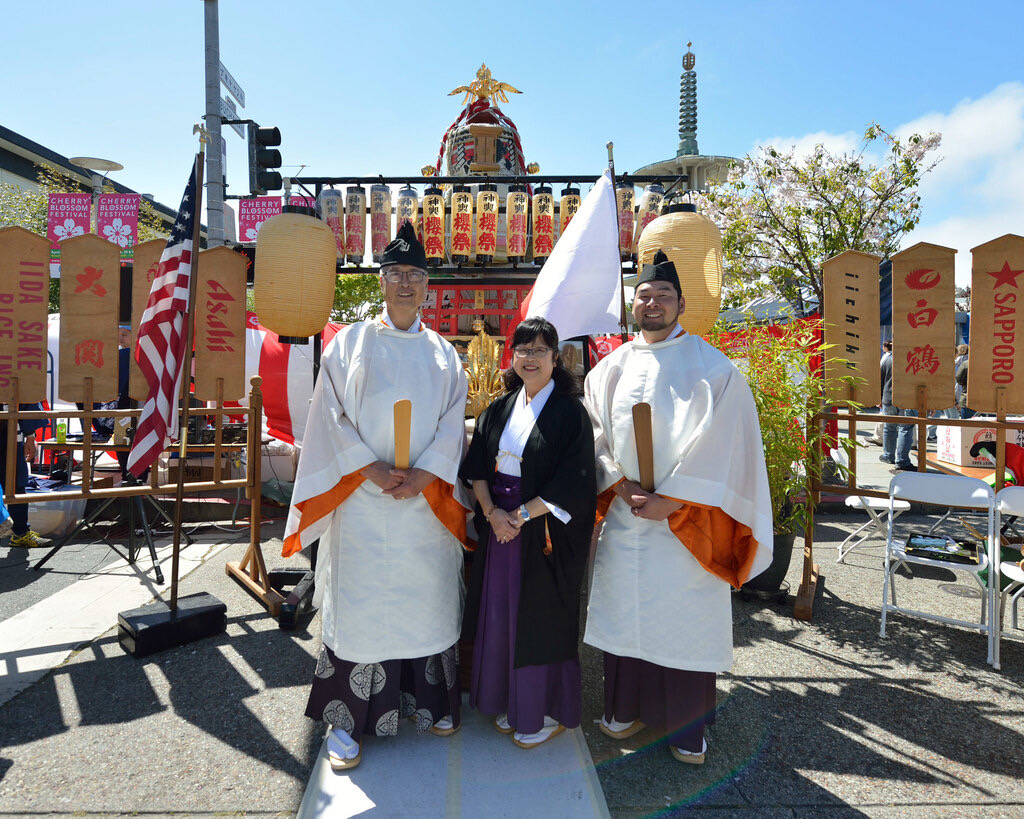 During the Festival, I am often invited to take part in the Shodo lecture and demonstration at the Japanese Cultural and Community Center of Northern California (JCCCNC/the Center). My students have a chance to display their calligraphy pieces along with students from various calligraphy shodo schools.
Q: Can you describe the benefits of practicing shodo?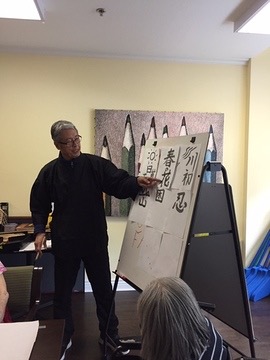 To learn the great value of a 3,000 year old tradition that was and still is a valuable cultural aspect of Chinese and Japanese history
To discover the layered meaning behind the lines and symbolic nature of the characters
To gain your inner Ki or Chi energy by practicing patience and calmness
By writing positive words in kanji, you will look at these characters over and over, to subconsciously absorb these ideas in your life.
To share your artwork with others
Eventually you can also share your knowledge and the lessons you learned from shodo with others to help them gain similar benefits.
Q: What does Kizuna mean to you?
A: The kanji character of 絆 Kizuna means "ties." Given distressing times like the pandemic, we rely on our community bonds, our emotional ties to each other to live, survive, and thrive. I am thankful for my family and friends, my church, and Japantown community for their support.
Q: Tell us how we can take your calligraphy classes!
A: I held a shodo class at Konko Church prior to the shelter in place order in March 2020. Since the pandemic started, I began a Zoom class every Sunday at 12:35 P.M. PT. You're invited to learn about eastern culture and traditions, write positive affirmations, and gain understanding on how to balance your mind, body, and spirit by practicing calligraphy. I look forward to seeing you in my next class, please sign up by emailing konkosf2@sbcglobal.net.
---
Thank you Kawahatsu Sensei for everything you do in our Festival and Japantown community. You may follow his shodo on his YouTube channel.