** Update on 10/31/2020: The Picnic at the Plaza has been extended to November 29. **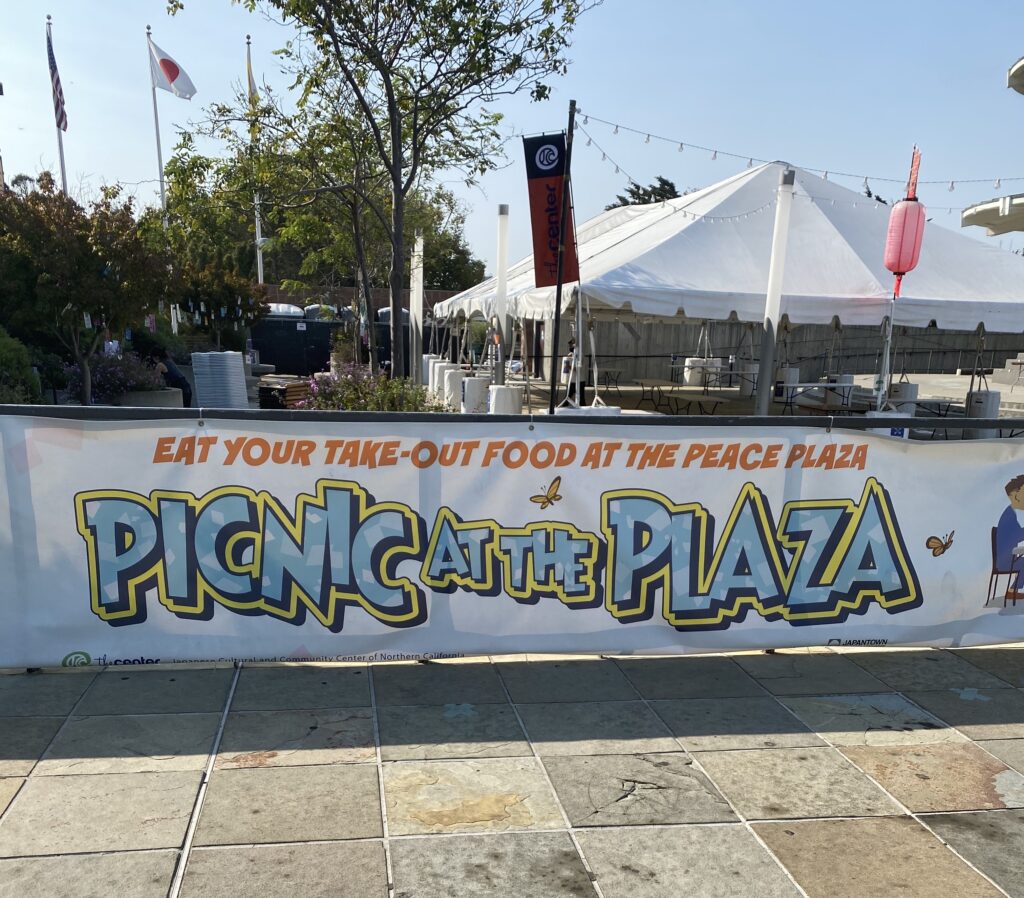 by Michelle Heckert
Through rain, a heatwave and uncertain air quality, The Center's Picnic at the Plaza has brought new life to San Francisco's Japantown and its businesses! Since July, the event has allowed thousands of foodies to experience Japantown's finest restaurants right at the center of the famous Peace Plaza.
The layout of the picnic includes over 25 socially-distanced tables (½ under the main tent and ½ under individual umbrellas), with seating for upwards of 100 guests at any given time. Many of these hungry patrons have travelled not only from other SF neighborhoods, but from all parts of the Bay Area. And with good reason: to enjoy fresh spicy tuna rolls, tonkatsu ramen and mochi donuts, all within this safe outdoor environment. With staff from the local community quickly sanitizing each table and chair constantly, it's no surprise the picnic has seen 1,800+ diners some weekends!
Picnic at the Plaza is a community effort funded generously through The Henri and Tomoye Takahashi Charitable Foundation. Their grant has supported the creation of two programs, including the picnic's outdoor seating–the other being GAMBARO (Let's Work Together), in which large gift certificates are purchased from Japantown restaurants and donated toward non-profit organizations' fundraising programs. The picnic was originally scheduled to run from July 18th to September 27th; however, due to popular demand, the event has been approved for an extension through the beginning of November.
While the picnic's outdoor dining experience has increased traffic in Japan Center Malls and the surrounding restaurants, it's also helped create some sense of normalcy during the pandemic. So, if you're in the Bay Area and looking to support small businesses while taking a break from the indoors, look no further! Here are some tips to consider before you go:
Make sure to bring a mask!

For the safety of yourself, other attendees, and Japantown merchants.

Follow social distancing guidelines, as well as venue-specific requests.

i.e., There is only one entrance and one exit, with stanchions around the perimeter to enforce the flow of traffic.

Consider dining during non-peak hours.

12:30 p.m. to 2:30 p.m. is the busiest time, so if you're fine eating a little earlier or later, it could save you a 20-minute wait time!

Make sure you have your whole party AND food before you enter.

During busy hours, parties can only be seated when their party is complete, with food in hand!

BYO water, hats & sunscreen!

Don't forget to stay hydrated, especially during the heatwave.
And although there are tents and umbrellas under which to sit, a hat and sunscreen can always provide some extra protection.
During colder hours, picnic staff will roll out standing heaters. But it's always a good idea to wear layers in SF!
Picnic at the Plaza hours:
11:30 a.m. to 8:00 p.m.
Saturdays & Sundays until November 29**
For more information, visit jcccnc.org/
About the author:
Michelle Heckert is a yonsei and recent MA Songwriting graduate from Bath Spa University. She has been an active volunteer and intern with SF Japantown organizations such as Kimochi, Inc. She is currently a Nikkei Rising committee member & has been working on the Yon-Say podcast as a host, researcher, and audio editor. On the weekends, you can find her at the Peace Plaza, working Picnic at the Plaza alongside other community members!