While text messages, phone calls, and video chats make for easy communication, nothing beats the heartfelt gesture of a handwritten letter to those we cherish as we #blossominplace. There is something extremely special about the time and thought that one puts into letter writing. And let's face it. Can this be yet another shelter-in-place activity? Perhaps a meditative break from your work or daily grind? If anything, the act of letter writing will keep our brains sharp!
We all have that card or letter that we've been meaning to write, or will need to in the near future. We highly recommend the stationery and stickers by the artisans listed below. Your act of kindness will brighten up your recipient's day as you support our artisans. (For a full listing of artisans, visit the Virtual Arts & Crafts Fair.) After you shop, grab that favorite pen and unleash your inner O'Keefe or Hemingway! #NCCBFVirtualFair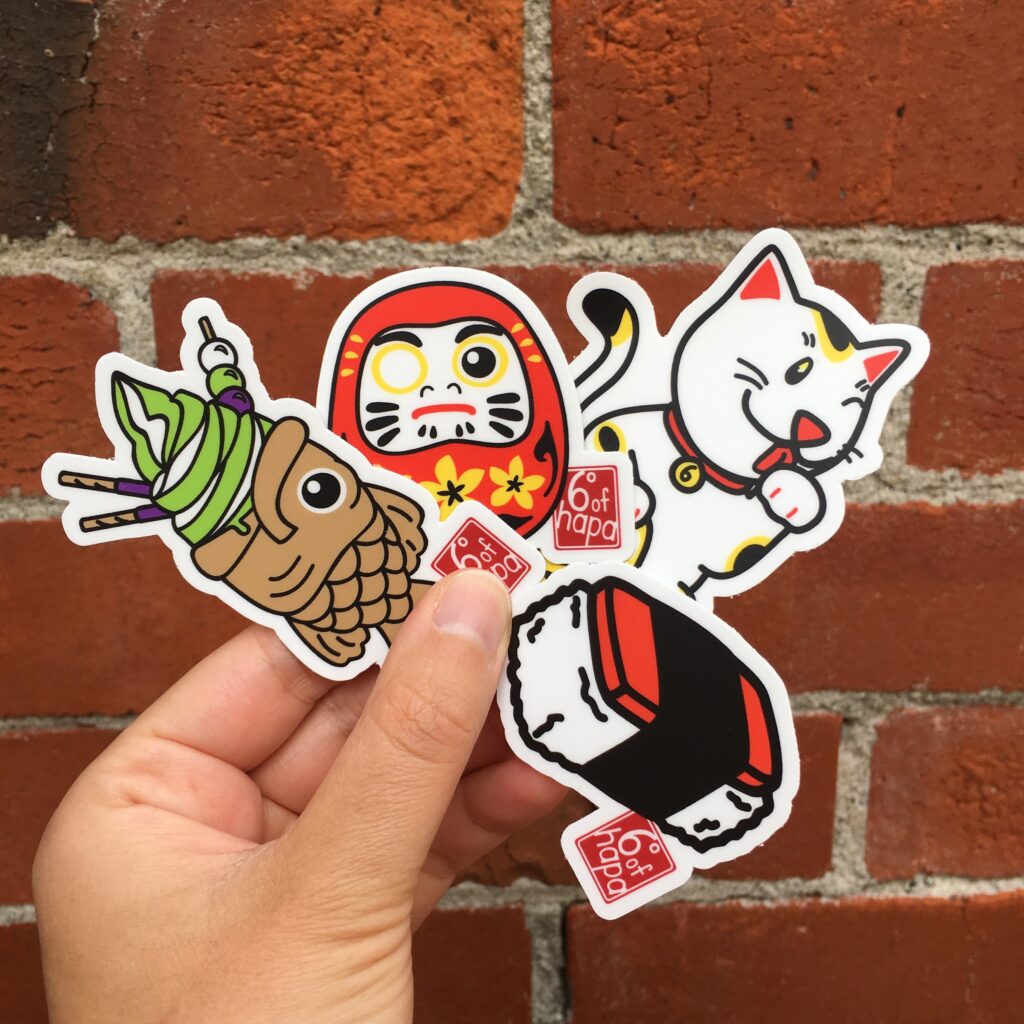 All $25+ 6degreesofhapa.com orders through 4/30 will include a Vinyl Sticker 4-Pack featuring one: Maneki-Neko, Daruma, Taiyaki, and Musubi! While supplies last and please note shipping and tax will not be included towards $25.
6 Degrees of Hapa is all about celebrating mixed cultures through apparel, art, and personal connections. My own hapa identity has always been a driving force behind the swag I create for 6 Degrees of Hapa and I draw inspiration for my art from imagery that I've grown up with and Hawaiian imagery to honor and acknowledge that "hapa" is a Hawaiian word. As my brand name suggests, 6 Degrees of Hapa has never been just about celebrating hapas as individuals, but also about celebrating our family, friends, and community who have supported us and lifted us up throughout our lives.
Enjoy a 10% off Spring sale on my Etsy for April & May. All purchases over $35 (after discount) will also be eligible for free shipping!
Handmade goods featuring authentic Japanese chiyogami papers. Some of the products include wooden jewelry, hair accessories, home decor, stationery, and other gifts/accessories. Everything is handmade by me in Santa Cruz, CA.
Free US shipping on orders over $30 and 10% off the entire website during the month of April.
We are a US based company located in the sunny city of Orange of Southern California. We are Designers, Illustrators, Retailers and Manufacturers of fun and unique Fashion and Accessories. We are proud to be making many of our Designs / Merchandise / Products right here in our Shop/Warehouse in Orange, CA.
Hello Sushi Store is the one-stop Asian gift shop for food-inspired merchandise. We create a variety of products with cute and vibrant designs of your favorite foods. Quality is key and we always want to make sure you are getting the best from us. All products sold by Hello Sushi Store are exclusive to the company and select retailers.
Explore pop up cards at HolidayPop to suit any occasion. Push aside the bitter and find the pop up sweetness to your life here.
Hello! I'm a Filipino American artist that loves to create bright illustrations, wooden charms and vinyl stickers. My main focus presently is my Pre-colonial Filipino Deities zine project, 'Diwata'. Volume 1 is now ready for people to read!
15% off website. Use code: corona
Pelham's Paperie sells handsewn fabric cards and stationary. All merchandise is 100% handmade.
My name is ClarizeYale (KLUH-ree-zee-yayl ) and I am a Pinay (a colloquial term for Filipina or Filipina American) artist and illustrator, born and raised in San Francisco, CA and I help brown women be seen by creating art and illustrations that represent us. I am a visual storyteller and so my work illustrates reflections of myself, my experiences, and the shared experiences of others. I am also a life long learner and illustrate my findings and studies as I learn and explore more about my ancestral roots.