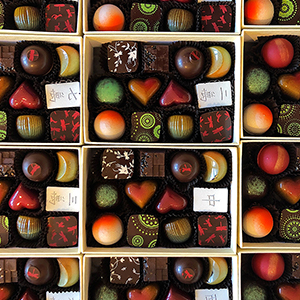 Jade Chocolates is one of the NCCBF Arts & Crafts Fair artisans known for their tantalizing bonbons, flavored Genmai chocolate bars, lilikoi and kalamansi lime truffles, as well as the rice paddies. All of their chocolates are handmade and produced in small batches to ensure the highest quality of ingredients. Jade Chocolates specializes in blending teas, spices, and tropical fruits from Asia and the Pacific Islands. They have brought back the seasonal favorite, Chocolate Pumpkin Bread, during the shelter in place mandate.
Those fortunate to have tasted Jade Chocolates will be happy to learn that they are expanding into a cafe to be located in Chinatown! Equally exciting for those discovering Jade Chocolates is their current promotion:
FREE no-contact delivery to the cities of San Francisco, Daly City, Colma, San Bruno, Brisbane, and South San Francisco
$8 shipping within California
Free shipping for orders over $120
Browse their product listing for a delectable gift for yourself and your loved ones! (Maybe Mother's day?!) ​
The company is expanding their line of chocolates into a cafe setting where one can have an Asian and Pacific Island brunch, afternoon tea, pastries, and flavored hot chocolates on one of the most vibrant streets of San Francisco. The owner and lead chocolatier, Mindy Fong, envisions a "space where people can congregate and share their love of chocolate with others, take a class in chocolate or pastry making,  have a date during one of our special movie nights, or enjoy a tea party with your friends." The cafe would be a place to promote culture through food. 
Let's help support their dream! Read more about their expansion here. Whether we are chocolate enthusiasts, potential collaborators, or investors, supporting their campaign would help enrich our local culinary experience and food culture.