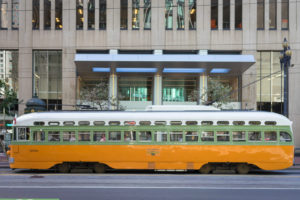 Whether you live in the SF Bay Area or you're just visiting, there are plenty of options for getting to the heart of SF Japantown, where the Cherry Blossom Festival takes place. Because parking spaces around the area will be limited during the festival, we highly recommend you take public transportation or use a car share service. Whichever method you choose, please add extra time for traffic, parking, and possibly walking a short distance to the festival area. Note: Bus routes should not be impacted by the festival, but we recommend checking on delays and ETAs for your bus (some good online resources include NextBus and the SFMTA website). Most importantly, drive/ride safe and plan ahead! Have a look at the following transit options:
By Bus:
From Union Square: Take the #38 bus from Geary Street, or the #2, #3 bus from Sutter Street. Get off at the Laguna or Buchanan stop.
From the Marina or Dogpatch districts: Take the #22 Fillmore bus, and get off at Fillmore and Sutter Street.
By Bart:
From East Bay: Take any Daly City/Millbrae bound train and get off at Embarcadero Station. Take the #2-Clement bus at Steuart and Market Street (Ferry Plaza), and then get off at the Sutter and Laguna Street stop.

From Millbrae: Get off at Montgomery Station, then catch the #38-Geary bus to the Fillmore and Geary stop. Alternatively, you can walk to Sansome and Sutter street from Montgomery Station, then take the #2-Clement or #3-Jackson bus and get off at the Sutter and Laguna Street stop.

By Car:
Important: If you're driving, bear in mind that both Sutter Street and Post Street will be closed to traffic between Laguna and Fillmore Street.
From the Bay Bridge or Highway 101 South: Take the Golden Gate Bridge/Octavia Boulevard exit. Octavia will veer left onto Fell Street. Turn Right on Laguna Street, then head to Sutter Street for drop-off. For parking, be on the lookout for potential Cherry Blossom specials posted in front of parking garages at both Van Ness (east of Japantown) and Divisadero Street (west of Japantown)!

From the Golden Gate Bridge: Take the the Lombard Street exit, turn right on Divisadero, then turn left on Sutter. If there's a lot of traffic on Divisadero, you can continue going straight on Lombard until you hit Laguna Street, then make a right and continue on to Sutter.
By Bicycle:
Limited Free Bicycle Parking available at the Japantown garages.
Main Garage: 20 Secured Spaces, 20 Rack Spaces
Fillmore Street Annex Garage: 8 Rack Spaces

By Taxi/Uber/Lyft:
Tell the driver to drop you off at the corner of Fillmore and Geary Street (Fillmore and Sutter Street also works – whichever is closer).
By Car share:
If you're using City Car Share, Get Around, or Scoot, there will be a few spots available for each service in either the Main (1610 Geary Blvd) or the Annex (1650 Fillmore St) parking garages. However, be prepared for these spots to fill up very quickly.
Parking
The City of San Francisco Japan Center Garage Corporation is a nonprofit public benefit corporation organized for the express purpose of assisting the City and County of San Francisco to provide oversight of the Japan Center Garages. Click here to find out more about parking while visit the festival.
Rosa Parks Elementary School is hosting a Parking Lot Fundraiser on April 14, 15, and 21 The parking lot is at 1400 Ellis Street (cross Webster Street), only a few blocks away from the festival. All day parking – $30. Open at 8:30 a.m. and closes at 7:00 p.m. We'll have volunteer parents and community members on site at all times, and ALL PROCEEDS fund the school community. Support your local community with convenient, hassle free parking.
Because parking spaces around the area will be limited during the festival, we highly recommend you take the city's convenient public transit system. The Municipal Transportation Agency (Muni) has bus stops one block away from the center of Japantown.
If you are coming into San Francisco via Muni train or BART, the easiest and most direct route is to get off at Montgomery Street Station, walk upstairs to Market Street and catch the 38 Geary to the Fillmore and Geary bus stop.
Please research other transportation services prior to attending the event.
On-Line Directions