To think of goodwill and humanity, one person comes to mind–Mr. Seishichi Ato. For the past 32 years, Mr. Ato and the Fujiyasu Kimono Company of Tokyo, Japan has generously donated a furisode or long-sleeved, silk kimono, obi, zori (Japanese style sandals) and matching bag. The kimono is presented to the Northern California Cherry Blossom Festival Queen each year.
Sixty years ago, Japan was defeated, devastated and ruined at the end of World War II, and the people were left without food, shelter, clothing or even hope for a future. It became a constant struggle to survive for the Japanese people.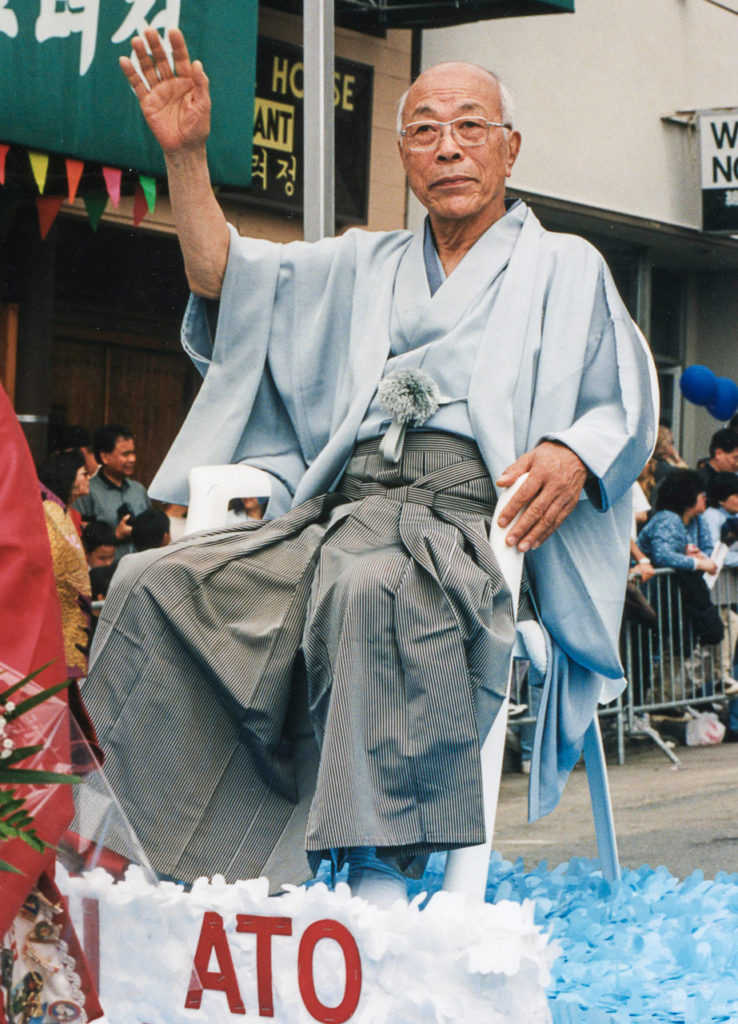 Unexpectedly, packages of food and clothing arrived from the United States. Initially it was believed that the packages were sent from the general public in the U.S. and the U.S. Occupation Forces. However, it was later learned that most of the packages were sent by Japanese Americans, through an organization — Licensed Agencies for Relief in Asia (LARA) — founded by U.S. civilians. Approximately 36 Nikkei relief organizations throughout North and South America contributed 20 percent of total LARA relief supplies, which included food, dry milk, clothing, medicine, shoes, soap and school products. These were the same Japanese Americans who themselves were coming home from internment camps to nothing.
The former president and current honorary chair of the Fujiyasu Kimono Company was one of the recipients of the gifts, which thus brought hope of survival and in rebuilding a future. Since 1973 Mr. Ato has donated year after year the beautiful furisode to the Cherry Blossom Festival after learning of the Japanese American communities coming together to celebrate such an event to welcome the arrival of spring. He never forgot the kindness and humanity of the Japanese Americans after the end of the war and looked to return his gratitudes to the communities.
Contact was made in the U.S. and without fail, the kimono continued and still continues to be donated by Mr. Ato. In return, Mr. Ato nor the Fujiyasu Kimono Company ask for or receive any compensation, profit, promotion, or advertisement. It is their way of saying thanks to the Japanese American community for its generosity during a period when both sides of the world had nothing.
The furisode donated by Mr. Ato are ones to be cherished for a lifetime. They are all a one-of-a-kind masterpiece and certainly can be passed down from one generation to the next. It is the hope of the Northern California Cherry Blossom Festival that this story is not forgotten. It is one of humanity, beauty and pure kindness, just like Mr. Ato's beautiful kimonos.
Learn more about the Queen Program's Kimono Project.
A Story of Humanity appeared in the 38th Annual NCCBF Program in 2005. The NCCBF Queen Program Committee and the Nichi Bei Times contributed to the story.