The Webster Street Stage began over 25 years ago to promote the Bay Area's contemporary musicians and performing artists. It has provided Asian Americans and entertainers of various backgrounds a venue to showcase their talent. From hip-hop to reggae, jazz to Top 40 R&B, and acapella, the Webster Street Stage lineup has always been exciting to watch. Come and enjoy a full day of music and fun!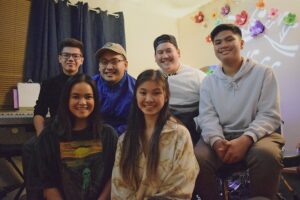 Audiophilic
Audiophilic is a brand new band consisting of multi-talented musicians and singers from a diverse background of musical literature. Members of the group are well-versed in jazz, R&B, pop, and are flexible performing multiple genres. Some members of the group such as Jazelle, Justin, and Brian create their own content, noting Brian's newest single, "Late Night Love." Darrell is an expert in jazz who is close to finishing his studies in Jazz Piano. Mikey is a bass enthusiast who loves to play anything with a good bassline. Flora, an outstanding vocalist, is well-known throughout San Francisco and the Chinese Community. The band has an equal love for performing music, adding their own styles to either enhance or make unique renditions of previously-made songs.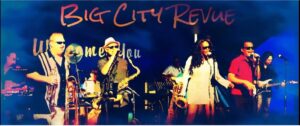 Big City Revue
Big City Revue live in concert at Cherry Blossom 2020! Covering every musical style from Old School, Motown to Current Hits. Big City Revue plays, delivers in the true jam-packed exciting live performances they are known for!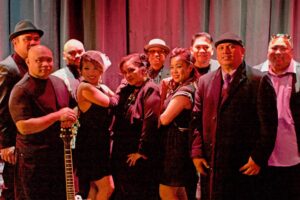 D'Groove
In its standard configuration, D'Groove is an eight-piece band featuring a standard four-piece rhythm section. Their soulful singing is combined with irresistible rhythms and fresh-rap-breaks showcasing their exciting power, range, and versatility – ensuring a night of high caliber entertainment and non-stop dancing. The band's grown and sexy front line and mature back line, and cultural diversity easily relate to audiences of all ages and backgrounds. Established since 1990, D'Groove's simple concept of playing the latest dance tunes, most heartfelt ballads, classic old school, and favorite standards assures a good time for all.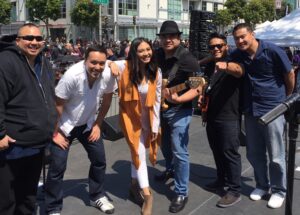 The Get Lucky Band
BOLD, STRONG, AND HIGHLY CONTAGIOUS! Get Lucky is one of the hottest bands in the San Francisco Bay Area featuring vocalist Butch Lavin and Jae Buensucesco. They play everything from Jazz Standards, Pop, R&B, Alternative, House & Retro while mixing them with the newest TOP 40 songs. Get Lucky is successful with astonishing confidence and noticeable ease in keeping the atmosphere fun & interactive with the audience. ARE YOU READY TO GET LUCKY?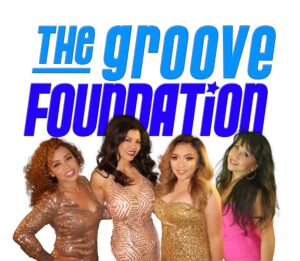 The Groove Foundation
The Groove Foundation was founded in 2008 by Drummer, Fred Torres. The band's shared vision is to combine musical excellence with visual appeal, to provide the Groove Foundation's clients with an unforgettable experience. Although the Groove Foundation is capable of playing many genres of music, including rock, jazz, and standards, the musical nucleus of The Groove Foundation is Top-40, R&B. The music is tight and energetic with a groove that's sure to get the audience out of their seats and on the floor!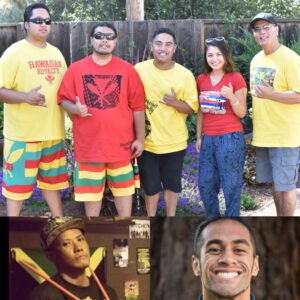 Hawaiian Royalty Music
These seven talented musicians bring forth worthy positive reggae vibes with strong harmonies and dynamic transitions. JD (percussionist; floats between guitar, bass, and keys), Kaluna (lead guitar with that east bay swag), Ray (ukulele and keys), Art (bass), and Kanoe (vocals) first came together in 2017 to form a group that showcases all their love for reggae music. Mike was added as the drummer and Jay took the lead on Keyboards to make this collective even tighter. Keep an eye out for Hawaiian Royalty Music doing shows in the Bay Area!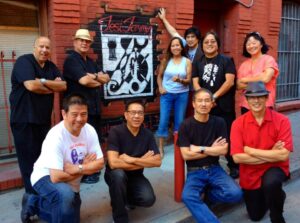 Jest Jammin'
Led by the Rev. Norman Fong, Jest Jammin' (aka "Chinatown Soul Band") has entertained the public with their wide repertoire of music for over 50 years. Norman, Brad Lum, Ed Toy, and friends got together and formed a band in 1968 and have officially called themselves Jest Jammin' since 1971. They can be seen in numerous venues throughout Northern California, from college campuses to large public functions. The band members remain close friends and continue to enjoy accommodating requests to perform their energetic music.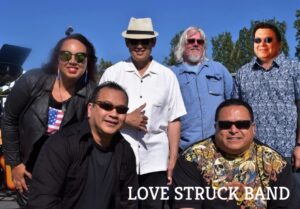 Love Struck Band
The Love Struck Band is a 6-piece upbeat dance band that is comprised of extremely talented, and professional musicians. They have played with musical luminaries such as Rock & Roll Hall of Famer guitarist Roger Fisher from HEART, blues bassist Johnny Ace, blues slide-guitarist Ron Thompson, and members of the Cold Blood band to name a few. Their music  is upbeat; every song has a Love Struck twist to it, whether it is a cover or an original.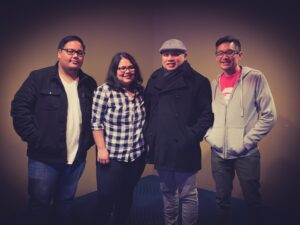 Playlist
Playlist is the hottest R&B and Hip-Hop cover band from the Bay Area. Founded in 2017 by members Larz Delago and Joey Celis, Playlist has smashed every stage they've been on from San Francisco to Fremont, Union City, Davis, Vallejo, and more. For all booking or show information follow them on Facebook at www.Facebook.com/PlaylistSF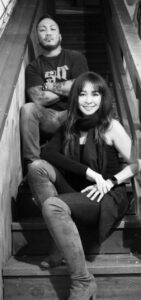 Soul'd Out Band
Soul'd Out is a San Francisco Bay Area-based cover band, specializing in R&B and Top 40 hits from today and yesteryears. Featuring vocalists Jannel Candrice and Johann Michael, who have been performing together for many years, along with musicians Brian Braziel (on Drums), Tim Wat & Chris Duenas (on Keyboard), Michael "Tiny" Lindsey (on Bass), Jay Viray (on guitar) — Soul'd Out!! The name speaks for itself! FB: @Soul'd Out Band / IG: @SouldOut_Band