Traditional Japanese portable shrine
2021 Virtual Festival Day 1: Soko Taru Mikoshi Ren shares a message of support for our Festival, and their plans for next year's Mikoshi carrying tradition.
Every year in April, Soko Taru Mikoshi Ren, also known as San Francisco Taru Mikoshi Ren, carries their Mikoshi down the streets of San Francisco's Japantown as the finale of the Northern California Cherry Blossom Festival's Grand Parade. At a future in-person Festival, all members of the public are welcome to join us for the second weekend's festivities, including the Mikoshi Purification Ceremony and the Grand Parade!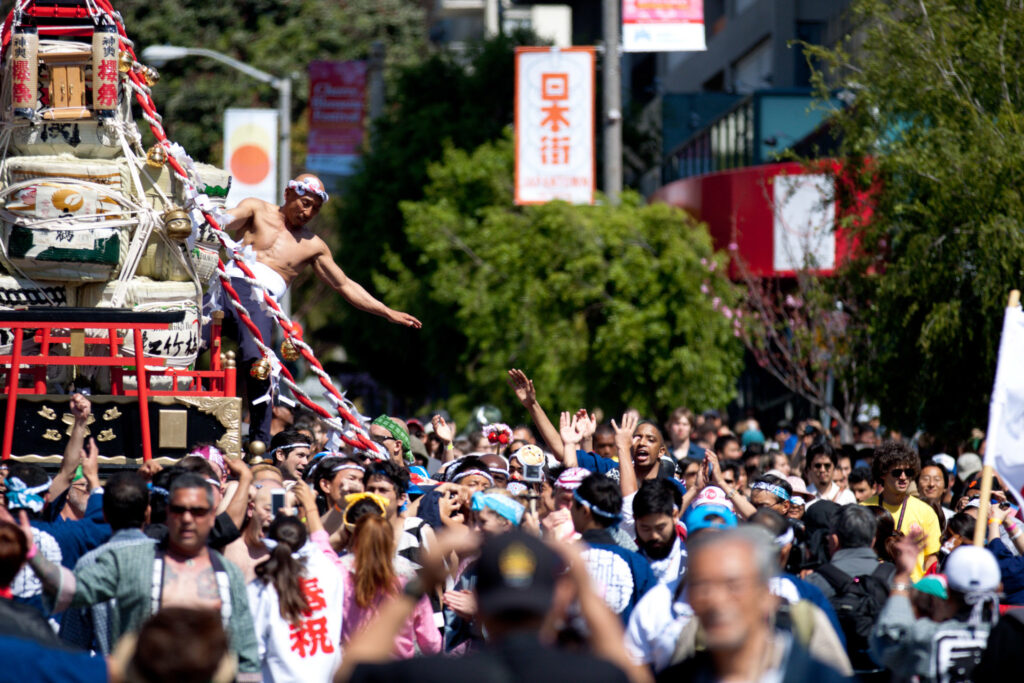 To ensure good luck, SF Taru Mikoshi Ren has carried the Mikoshi since the first Cherry Blossom Festival in 1968. The original SF Taru Mikoshi was carried by about 25 people. It has exponentially grown since then to its current style, featuring double elevated platforms and double layers of four sake barrels, one barrel on top, and a recently acquired enormous 鳳凰 Houo (Phoenix). The Mikoshi weighs over 1,000 pounds, requiring 140 to 160 male and female volunteers of all ages and backgrounds to carry it on their shoulders and transport it across five city blocks in Japantown.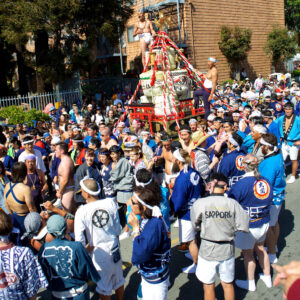 The Mikoshi, or portable Shinto shrine, is believed to be the temporary dwelling place of deities during Japanese festivals and religious processions. In early days, it was believed that carrying the Mikoshi would get rid of any curse that one might have and that shaking it would spread the benefit of the god's power. Thus, the more the Mikoshi is rocked back and forth and moved from one side of the street to the other, the more blessings are bestowed upon festivalgoers. Please help cheer the Mikoshi carriers on by yelling "Suya, Suya" as they pass by with the heavy Mikoshi on their shoulders!
Taru Mikoshi originated at the time of the 1868 Meiji Restoration. When the Meiji Emperor entered Edo (Tokyo) Castle, one of the many things he did was to invite the heads of each of the approximately 1,500 communities within Tokyo to the castle and present them with a barrel of sake, similar to the one we carry. Spontaneous festivities erupted throughout Tokyo, and after they finished drinking, citizens carried the empty sake barrel on a platform for four days to show their deep appreciation and unconditional support for the new government.
The SF Taru Mikoshi has been the highlight of the Festival every year since our beginning. To find out more information about the Mikoshi and how to volunteer to carry the Mikoshi, visit their Facebook page.