The Art of Paperfolding
Origami means "folded paper" and encompasses the art of paper folding. While simple origami figures can be produced in less than 10 steps, more complex shapes require several hundred folds and are mastered by a select few who studied origami for many years. One such expert is San Francisco native, Linda Mihara, who practiced folding origami since the age of five. Her grandfather, Tokinobu Mihara, wrote two of the first origami books in the English language.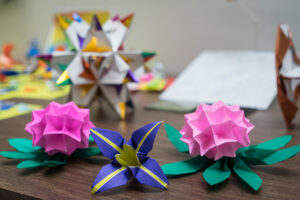 The Japanese are credited with origami's development, although no known record exists as to its exact origin. It is an art that is over 400 years old, but its popularity has spread around the world. The origami exhibit and demonstration has been a part of the Northern California Cherry Blossom Festival since its inception in 1968.
2021 Virtual Festival Day 2: Origami with Linda Mihara, learn how to fold Flying Paper Cranes! You will need a 10 inch by 10 inch origami paper to get started.
2021 Virtual Festival Day 4: Origami with Linda Mihara, learn how to fold a modular Sakura! You will need three 10 inch by 10 inch origami papers, cut in half for five long rectangular sheets to get started.
At a future in-person Festival, this beautiful art form will be presented with an amazing Origami Exhibit and Demonstration at the Japanese American Citizens League Headquarters, located at 1765 Sutter Street. Join award-winning origami artist Linda Mihara, along with members of the Bay Area Rapid Folders (BARF), to practice paper folding. We invite you to try your hand at origami at this free, interactive event.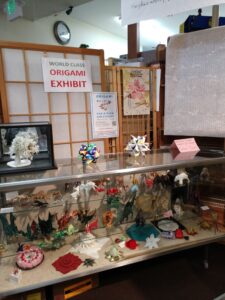 Year round, Paper Tree at 1743 Buchanan Street near Sutter Street, houses the Origami Museum, where a broad array of world-class origami is on display while you shop for origami supplies and special gifts. During the spring, view hundreds of cherry blossom origami in their beautiful window display!
Linda Mihara is the proprietor of Paper Tree, also known as "The Origami Store," and she teaches in-person classes and Free Fold Saturday classes on Zoom.