The Festival is honored to invite Akita and Shiba to participate in informational meet and greet booths and to stroll with their owners in the Grand Parade. The Akita and Shiba club members bring their beloved dogs to meet each other and to receive a lot of attention and petting! We hope that you enjoy meeting these Japanese breeds at a future in-person Festival.
Akita Inu 秋田犬
Akita are large, independent, and noble dogs that may be aloof with strangers but show their silly, affectionate nature with a loving family. This breed comes in colors such as white, brindle (or tiger stripes), and pinto (or piebald), and has a signature plush tail that curls over to the back. The Akita Inu is one of six breeds as part of Nihon-ken (native Japanese breeds) family, and a great symbol for happiness. In Japan, a baby's first gift is customarily a small Akita statue to signify a long, happy and healthy life.
There are many Hachikō statues around Japan, representing a loyal white Akita who walked his master, Hidesaburō Ueno to Shibuya Station every day to drop him off and pick him up from work. Unfortunately, his master passed away while at work one day, and Hachikō continued commuting to the station for over nine years after that day, earning him the nickname, Chuken Hachikō (faithful dog Hachikō).
AKIHO North America Branch was established in 1970 to preserve, propagate, and improve the Akita Inu in the United States and Canada. Our club emphasizes the importance of educating and creating awareness of the difference between the Japanese Akita and the American Akita. The members of AKIHO share a vision for the betterment of the breed and have a profound respect for their Akita.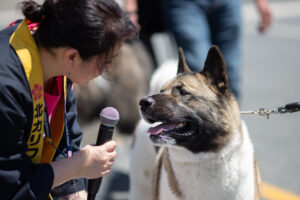 Replay the interview of Jeremy Ellis and his Akita, Daisy, in the 2020 Virtual Festival. The Festival Committee is grateful to Jeremy and Lilly for coordinating GGAC activities for the Festival and sharing your Akita, Daisy, over many years.
The goals of Golden Gate Akita Club (GGAC) and its membership are to encourage and promote quality in the breeding of purebred Akita, do all in its power to protect and advance the interests of Akita by providing educational information about the breed to its members and the general public, encourage good sportsmanship at dog shows, and share our love for this impressive breed. GGAC was established in 1970 and is a member of the American Kennel Club (AKC). As of Spring 1995, GGAC has the AKC's approval to hold its own Independent Akita Specialty Show, Sweepstakes Competitions, and Obedience Trials. Golden Gate Akita Club is the oldest running Akita club in the USA.
---
A Special Tribute to Daisy

"My Akita, Daisy (Hyojun's Dazed by the Light CGC) served as the main Akita representative from the GGAC to the NCCBF. She passed away in June of 2020 so she will no longer be at festivals, but she sure did love meeting people and walking in the parade every year. Her favorite parts were probably scavenging for candy as she walked the parade and napping in the car ride home. True to the Akita standard, she stuck with us and attended every festival even in her last days. Daisy lives through our memories and all the people who stopped to pet her and take her picture over the years she represented the GGAC at the NCCBF."
---
Shiba Inu 柴犬
Shiba Inu is the smallest of the native dog breeds from Japan and was originally bred to flush out birds and small game from brushwood bushes for its owner. Shiba is a beautiful breed that comes in colors such as red, red sesame, and black and tan, and resembles a plush fox or a miniature Akita with their small pricked ears and curled tails. This small Spitz-like dog is spirited, good-natured, clever, charming, and adapts well to city or country life.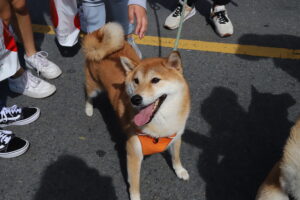 The Japanese have three words to describe the Shiba's temperament. The first is 悍威 kan'i which is bravery and boldness combined with composure and mental strength. The opposite side of kan'i is 良性 ryōsei which means good nature with a gentle disposition. One cannot exist without the other. The charming side of the Shiba is 素朴 soboku which is artlessness with a refined and open spirit. These features combine to make a personality that Shiba owners describe as irresistible.
Shiba Inu Fanciers of Northern California
Replay the SFNC meet and greet booth at the 2020 Virtual Festival.
Shiba Inu Fanciers of Northern California (SFNC) is a licensed AKC club formed in 1998 to protect and advance the interests of registered Shiba Inu dogs. Our code of ethics is designed to establish a standard of conduct to be followed by all members of SFNC in order to promote the highest ideals among Shiba Inu owners and breeders in Northern California. SFNC shares our love for the breed by encouraging good sportsmanship at all events and educating the public with hands-on demonstrations at events such as our Meet-The-Breed booth at the Cow Palace dog show in January, the Cherry Blossom Festivals around the Bay Area in April, and at our annual Shiba Party picnic in the summer. Our club holds two independent Shiba specialty dog shows each year and promotes happy and healthy Shiba through training and exercise.