Japanese Traditional Embroidery
Silk and metal thread embroidery was introduced to Japan from China through Korea, and over 1,000 years has developed into traditional Japanese embroidery by the designs and materials used. The late Shishu master, Iwao Saito founded Kurenai-Kai after World War II in Chiba Prefecture, and trained apprentices to follow his embroidery methods and techniques. Master Saito's son, Shinsaku Saito took over his position as president of Kurenai-Kai. Shuji Tamura, the successor of late master Iwao Saito, and his wife Masa, also the master's daughter, established an American nonprofit branch, the Japanese Embroidery Center: Kurenai-Kai, Ltd. in Atlanta. The Tamuras were trailblazers in introducing the traditions of Japanese embroidery beyond Japan.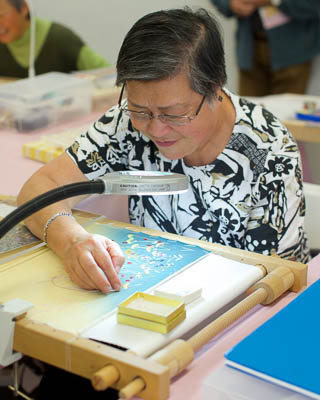 The traditional Japanese embroidery study group learns the techniques used for embroidery on kimono and obi. These embroideries are silk on silk with some techniques unique to Japan. Designs are from the Japanese Embroidery Center in Atlanta. Classes for study are available in the San Francisco and Sacramento areas.
At a future in-person Festival, stop by Classroom 2 in the Japanese Cultural and Community Center of Northern California (JCCCNC/the Center) during the first festival weekend to catch these artists in action!
There is no scheduled programming for Shishu in the 2021 Festival, but we hope to bring this event back in a future in-person Festival.