Chanoyu CHA-NO-YU (literally, hot water for tea), or more formally, Sado/Chado is one of the most refined traditional arts of Japan. It has been an important influence on Japanese architecture, landscape gardening, ceramics and floral arts. It has also shaped many of the artistic values and social etiquette observed by Japanese people. Buddhist monks introduced tea as a beverage and medicine to Japan from China in the early 700's. The main point of Chanoyu is not the drinking of tea, but rather the appreciation of beauty, simplicity, and spiritual tranquility that form the essential principles of Zen, and which were particularly valued in the turbulent times of medieval Japan.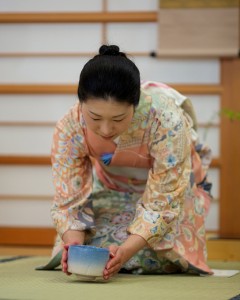 Participation in Chanoyu requires that all problems and distractions of everyday life be left behind. For the guest, it involves appreciation of the tea room, the utensils used in serving the tea, the scroll or simple flower arrangement in the room, the sincerity of the host, and above all, the effort the host has made to have the guests spend a moment in time enjoying this unique experience. The host, for his or her part, must prepare the tea to the best of his or her ability. Chanoyu is meant to be a harmonious and tranquil expression of friendship.
All Tea Ceremony Demonstrations will be at the beautiful Julia Morgan designed, Nihonmachi Little Friends, 1830 Sutter St.