The first weekend of the 50th anniversary Northern California Cherry Blossom Festival was filled with memories and epic moments! Despite a rainy start on the morning on the first day, the festival powered through and by 10AM, the rain had stopped, the sky cleared up and the sun came out. And the rest of the weekend was greeted by the sunny beautiful weather perfect for a festival.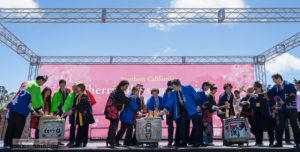 Thank you to everyone who made it out to join us in celebrating this historic moment for the Cherry Blossom Festival in San Francisco. The festival had a great turnout and we dare to say the number of visitors we received last weekend surpassed previous years. So thank you for being a part of Japantown history and for supporting a cultural event that is near and dear to our hearts. We hope you had lots of fun, enjoyed all the amazing performances like SF Taiko Dojo, Rakugo – Osaka Comedic Storytelling, the Sakura 360 area with anime and cosplay, Food Bazaar, Sake Tasting, Hello Kitty Café, danced at the Webster Stage with musical bands and enjoyed unique arts and crafts at the JCCCNC and more
We've shared pictures taken by professional photographers on the festival's Facebook Page, where you can follow us too. Please enjoy them and tag #nccbf50 with your pictures taken at the festival too! We'd love to see them.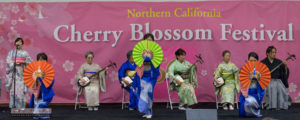 Special thanks to the festival's performers both locally and those traveled from Japan to perform for you, the festival visitors. Every audience feels their hard work, creativity, and dedication through their arts. Heartfelt thanks to all the artists who showcase and taught festival visitors their art in Ikebana, tea ceremony, Shishu (Japanese embroidery), origami, Washi Ningyo (paper dolls) and more. Cultural art classes like these are valuable and what makes this festival meaningful.  
The festival continues this weekend at Japantown with new programs, activities, and performances. Check out the schedule for the 2nd weekend here. Please come back and join us for more fun, new programs and performances line up, eat more tasty food and enjoy to your heart's content.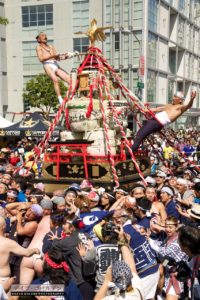 On Sunday (April 16), don't miss the grand finale of the 50th Anniversary Cherry Blossom Festival Grand Parade starting at 1PM at San Francisco's Civic Center and ending at Japantown's Peace Plaza on Post Street. The Grand Parade Grand Marshal this year will be a 3 times sumo wrestling champion, Konishiki Yasokichi! So don't miss out! We will see you at the festival! 
Melody Lee
Social Media Manager/Guest Blogger
Photos credit: Dave Golden