Minran Zhang designed the main artwork for the 2018 Northern California Cherry Blossom Festival poster, program booklet cover, and the banner.  Minran was pursuing her M.A. in Illustration at the Savannah College of Art and Design (SCAD) in Savannah, Georgia when she created the original piece.  To our great fortune, her beautiful artwork landed in the hands of Greg Viloria, the PR/Marketing Executive Chair, and the rest is history. Read on to learn more about Minran!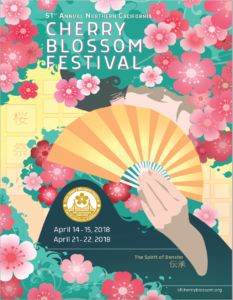 Q:  What motivated you to draw a design for the Cherry Blossom Festival?
A:  The initial design for the Cherry Blossom Festival poster was an assignment for Professor Julie S. Lieberman's [Illustration Concepts and Composition] class. The assignment requires a student to create a poster only about a festival. The class required us to have at least 12 thumbnails of different ideas. So I did 12, using symbolic elements to place them in a good way. Brain and hands going at the same time.
Q:  How did you find out about the Cherry Blossom Festival in San Francisco?  
A:  I love Japanese culture so much. The first idea to come to my mind was the cherry blossom festival, and I was sure the US would have this festival. First I checked the festival in Washington D.C. but later found the Northern California Cherry Blossom Festival. The connection to Japanese culture is just what I really wanted to create with so I decided my topic immediately.
Q:  Have you been to San Francisco?
A:  I still have not had a chance. I hope to one day!
Q:  What did you study before Illustration? Where do your inspirations stem from?
A:  My bachelor degree is in Advertising Strategy from Beijing. Actually, I was so influenced by Japanese anime from primary school, and the love of anime and manga is the reason why I can keep self-teaching art for years. After graduation, I had several jobs. Those experiences made me decide I want to make a living creating art. Then I came to America to start all over.
Q:  What tools do you use when you design? Do you sketch on paper or is it all digital?
A:  I use a pencil to sketch on paper, then scan it, and finish in digital.
Q:  What do you like to do for fun?
A:  I'm working on a children's book now and looking for a publisher to publish it.
Inspired to submit your original artwork to our Cherry Blossom Festival?!  Proceed to the following

link

to submit your original artwork for the 2019 Festival!
Fans can see more of her artwork on her

website

.