Tsukino Mari, aka Sailor Moon, has been performing for the Northern California Cherry Blossom Festival audience since 2005.  "[She] wanted to be part of the very first cosplay parade in the United States and to also attract more people to the beautiful Japantown."  A natural at engaging with people who love Japan, Mari loves helping others and seeing them smile.  Read on to learn more about her typical day!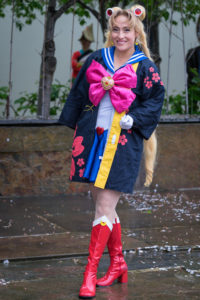 Hello. Nice to meet you. I am Mari, also known as San Francisco Japantown's Sailor Moon.  What is a typical day for me, you may wonder?
6:00 am  Wake up and meditate, then shower. Prepare fresh bentou to take with me for lunchtime.
7:00 am  Take the bus to downtown and then walk from the Ferry Building to Japantown.
8:00 am  Ask about volunteer opportunities and Japantown news. Clean garbage around Japantown.
10:00 am – 1:00 pm  Work then lunch (my bentou).
1:00 – 2:00 pm  Answer social media messages. Check convention bookings or Facebook live.
2:00 – 6:00 pm  Back to work
6:30 pm  Eat dinner and commute
6:30 – 7:00 pm  Review my homework from my nutrition class.
7:00 pm  Work on ideas I have and sometimes serve in the community council/practice Shigin (Japanese traditional poetry singing)
8:00 pm  Work on collaborations, Cherry Blossom Festival ideas, Sailor Moon step practice, and cosplay construction.
9:00 pm  Skincare, read cooking books and other books which help me learn new things.
10:00 pm  Meditate, remind myself to be grateful for the day and people I have around me, then sleep.
For those who may not be familiar with the world of anime or cosplay, she explains that "Japanese animation is a great aid to learn the Japanese culture and language.  You can even learn Japanese by watching a Japanese with English subtitles animation.  People who cosplay come from many different backgrounds — scientists, lawyers, doctors, fashion designers, computer specialists, students, teachers, moms, dads.  Many cosplay for the love of the character, to get rid of stress, or to just have fun with their friends. Some of us even cosplay to make someone else's day brighter at hospitals, or volunteering in the community."  Make sure to stop by the Sakura 360 Area for the full and bright Cherry Blossom Festival experience!
Submit a Vendor Application to get involved with the Sakura 360 Area!