Kendama is a traditional Japanese toy, referred as the Japanese version of a cup-and-ball game. The kendama is made up of the ken (handle), three concave cups, the kensaki (spike), and the tama (ball) connected by the ito (string). Made of wood, the ends of the base and the crosspiece of the hammer are cupped so that they can catch the ball, and the ball has a hole in it that can fit on a spike on the end of the hammer. Seasoned players demonstrate a variety of fun tricks where they spin, juggle, flip, and spike with their kendama.
There is no scheduled programming for Kendama in the 2021 Festival, but we hope to bring these activities back at a future in-person Festival.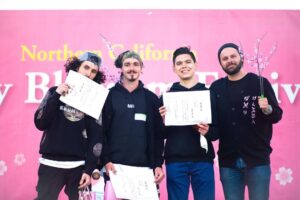 The Sakura Classic is the premiere kendama competition and tournament for kendama players and fans alike. Both amateur and professional players from all over the West Coast compete for a top spot to perform on the Japantown Peace Plaza Stage. At the Northern California Cherry Blossom Festival, get hands-on training with some of the best players in the world at free workshops for all ages and skill levels, and participate in mini games, professional demos, and an open division style contest. At a future in-person Festival, bring your kendama and family to this awesome event during the first festival weekend.
Special thanks to Jake Wiens, the Consulate General of Japan in San Francisco, Grain Theory, and the KG Squad for organizing and supporting the Sakura Classic.