We premiered Reflections of Tohoku as our 2021 Festival's short documentary film.
The 54th annual Northern California Cherry Blossom Festival will commemorate the 10 year anniversary of the Tohoku Earthquake with our 2021 Festival theme, Kizuna – Strength through Bonds of Community and Friendship. We embarked on a socially distanced documentary project over the past several months to memorialize the Tohoku Earthquake. We invited special guests from our Festival, our Japanese American community in the Bay Area, and Japan to share their firsthand experiences upon this event, and how they came together with the spirit of Kizuna to help the Tohoku region in the aftermath.
Recollections, Remembrance, and Reflections
The Tohoku Earthquake took place on March 11, 2011, and as our Festival occurs every April, our 2011 Festival Committee members mobilized our efforts into fundraising a month after this natural disaster. Our Committees also partnered with other Japanese American organizations and corporate sponsors to raise awareness and funds. The Queen Program held a moment of silence and remembrance, and signified respect by asking 2010 Princess and Tomodachi Award recipient, Corey Fujioka, to offer a dozen white roses to the Queen's Fujiyasu Kimono display during the 2011 Program. Many of our members offered resources beyond the Festival, even traveled to Tohoku many times to volunteer on site.
We are grateful to long-term Festival Committee member, Benh Nakajo for sharing his reflections and sentiments from ten years ago. He describes his personal experience upon the Tohoku Earthquake and how our Festival community worked together to raise funds for the Tohoku region's recovery.
March 11, 2011
The Great East Japan Earthquake that devastated the Tohoku region rumbled through the Northern California Japanese American community and swamped our hopes, dreams, work and efforts to celebrate our 44th annual Northern California Cherry Blossom Festival in 2011.
Sorrow and hopelessness washed over us, as we watched in unbelievable horror as the tsunami swept everything in its path. Over 18,000 people died, and homes and livelihoods of half of a million people disappeared under dark black waves.
We heard the calls of warning, the agonizing cries, screams, and pleas of help of those victims swept away.
We wept and cried for Japan.
We stood confused and filled with doubt, mixed feelings clouded our minds in the days following the earthquake and tsunami, reliving the devastation that we witnessed as unbelievable as it seemed.
Every Committee, every Committee member, every volunteer, every person within the Festival, carried this dark burden, and we all wondered if it was right to continue the celebration of our Festival, in light of the Tohoku Earthquake and Tsunami tragedy and the tremendous loss of life.
There were much talk on all levels –
Should we indeed be celebrating? Should we dance and sing? Should we celebrate the beauty of sakura blossoms? Should we dare to have a celebration to recognize our Japanese American heritage? It did not seem right to do this.
Over our Festival and us, there hung huge clouds of doubt.
Our Festival Co-Chairmen, Allen Okamoto and Richard Hashimoto called us together for a gathering. During one of our final Committee meetings, they read to us a letter they received by Takeno Chiyo Suzuki, who served as our General Co-Chair in 2005, and later moved to Japan to start a new life with her new husband in Sendai, Tohoku.
Takeno's letter pleaded that we send help, her words begged us to do all we could for Tohoku. "We need your help, don't forget us!"
We listened with tears in our eyes as we then realized, we knew and now understood that we needed to move forward.
From that day on, every event, exhibit, performance, show – the entire 44th annual Northern California Cherry Blossom Festival was turned into a gigantic Fundraiser. "For Tohoku! Remember Tohoku!"
At four Festival venues, Takeno's letter was announced and read out loud at the Opening Ceremonies, Queen Program, Peace Plaza stage, and Friendship Reception. The message went out and the call was heard.
Everywhere, at every event, bowls and jars were placed, pleading with anyone who could, to drop coins and bills to help in some way, to assist the suffering taking place in Japan.
Every Committee that had an event, made use of their occasion to plead the cause and collect donations. The amounts mounted.
The heart, soul, and mind of the 44th Northern California Cherry Blossom Festival were carried out and meaningfully accomplished in 2011.
This year, our 2021 Festival pays tribute in remembrance of that horrendous life-changing event from a decade ago, and reflects on this past devastating year from 2020-2021.
In Recollection, Remembrance, and Reflection,
Benh K. Nakajo
---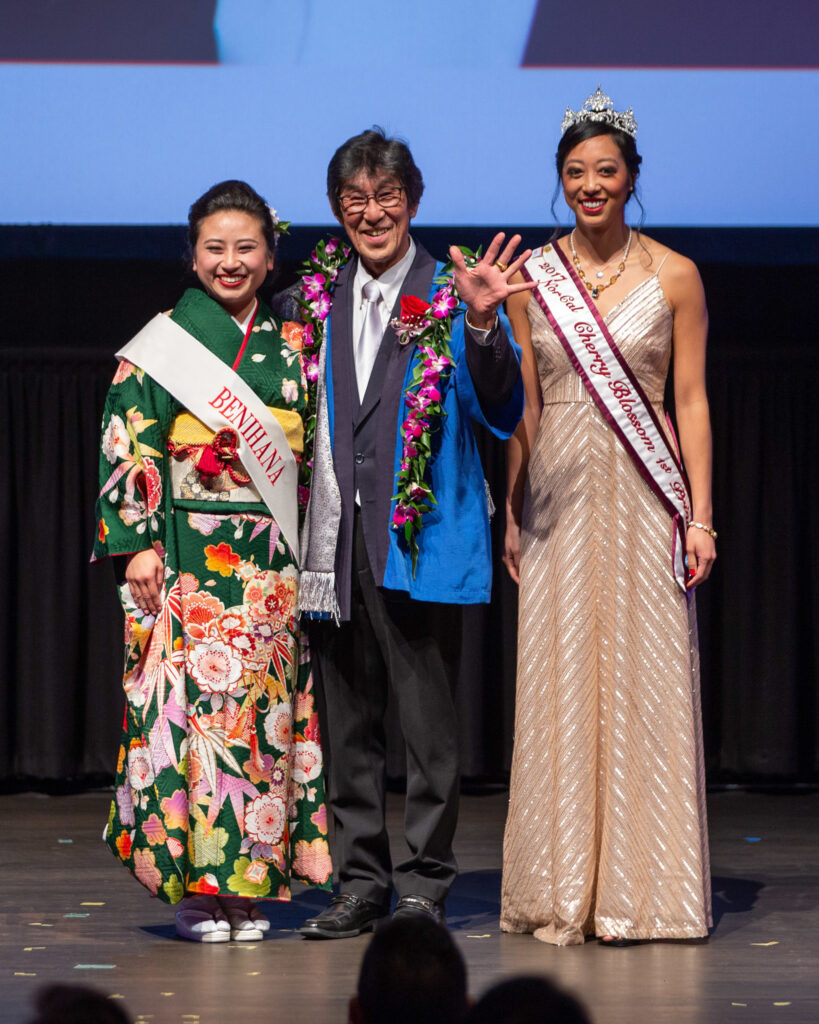 About the author:
Benh Nakajo is one of our senior Festival Leaders, actively volunteering in the Sakura Matsuri Board of Directors and in the Executive Committee for many years, and served as the Queen Program Chair for over 20 years. He has been a dedicated individual to the development of grassroots cultural exchanges between Japan and the United States, along with contributing to the revitalization of San Francisco Japantown and its associated community.
From left to right: Princess Rachel Mika Kawawaki (2018 Court), Benh Nakajo, 1st Princess Hilary Kiyomi Ego (2017 Court), in the 2018 NCCBF Queen Program
---
On March 11, 2011, the Tohoku region of Japan experienced a magnitude 9.0 earthquake off of the Pacific coast. This underwater earthquake caused a tsunami and a nuclear meltdown at the Fukushima Daiichi Nuclear Power Plant. This tragic event affected many people not only in Japan but also around the world, including our Festival and the broader Japanese American community.
Japan chose 絆 (Kizuna) as the official kanji of 2011 in honor of the strength of emotional ties or bonds forged among their people as they worked together to recover from the disaster. We will commemorate the 2011 Tohoku Earthquake with personal stories by our community members, who have been affected by this natural disaster and made contributions to the Tohoku region's rebuilding and recovery. It is truly a story of Kizuna and of the strength of our bonds through community and friendship.