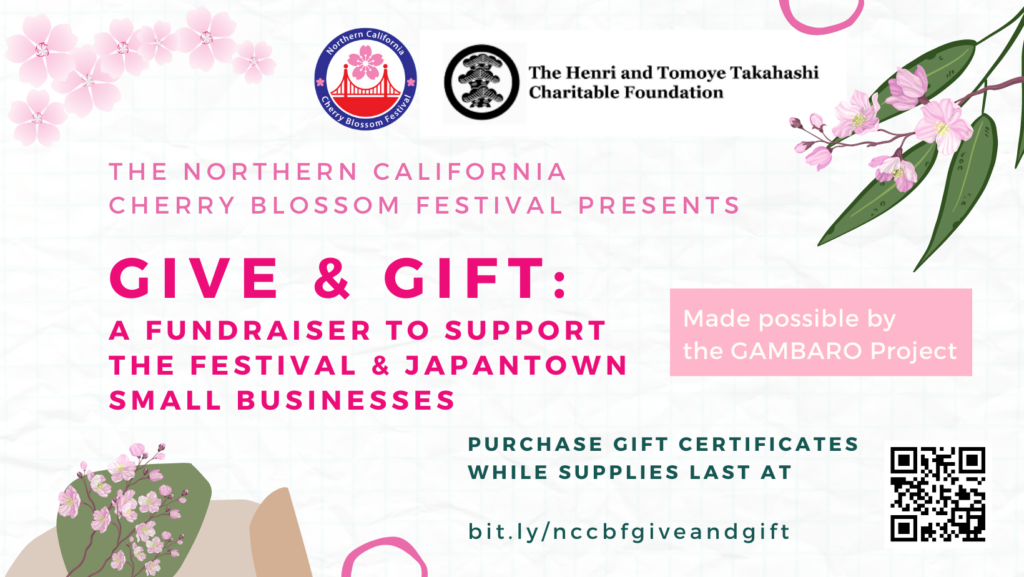 The Northern California Cherry Blossom Festival presents the Give & Gift fundraiser, an opportunity to shop in Japantown while giving back to small businesses and supporting our Festival at the same time. Pick up gift certificates for select retailers at discounted prices, so you can stretch your dollar further while purchasing gifts for your family, friends, and yourself!
This fundraiser is generously supported by the GAMBARO Project. がんばろう GAMBARO roughly translates to "don't give up, let's help one another through adversity." This project was a charitable response to assist Japantown's small businesses and nonprofit organizations during the COVID-19 pandemic. The Center (Japanese Cultural and Community Center of Northern California) collaborated with the Japantown Merchants Association to purchase a large sum of gift certificates, which were then donated to community nonprofits like ours for fundraising purposes. We are thankful for the Henri and Tomoye Takahashi Charitable Foundation for funding this project.
As we celebrate spring and cherry blossom season, it's perfect timing to dress up your living spaces, share unique gifts, and dine delicious food from our Japantown neighborhood. We invite you to peruse the shopping directory of our participating businesses and pick up gift certificates. We have discounted individual gift certificates for sale, as well as gift packs at a greater discount, while supplies last!
---
---
---
---
---
---
---
---
---
---
---
---
Please remember to wear your mask and practice social distancing when you go to Japantown, and check with individual stores for their hours prior to your visit. The store hours are valid as of May 10, 2021. The small businesses in Japantown rigorously follow San Francisco's health and safety guidelines, so you may safely shop for your gifts.
---
Thank you for giving back to our Festival and Japantown's small businesses during these unprecedented times. All proceeds for the gift certificates support our programming, so we may keep our Festival free for everyone to attend.