On behalf of the Northern California Cherry Blossom Festival (NCCBF) Executive Committee, we are excited to announce the dates for our 54th annual event. The Festival will be held virtually between the hours of 3:00 P.M. and 5:00 P.M. PDT, on April 10th, 11th, 17th, and 18th, 2021. We will be streaming many of the cultural artists, organizations and sponsors that have supported this Festival for many years. The Festival's Queen Program Night will be streamed on the first Saturday at 6:00 P.M. Meet the new 2021 Court to learn about their candidate journey and hopes for the year ahead on the final Sunday at 4:27 P.M.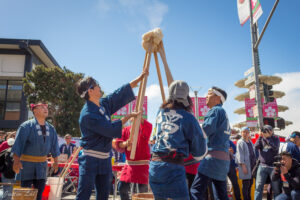 It has been ten years since Japan's tragic earthquake and tsunami which devastated the Tohoku region. Since then, our Festival and countless community organizations have reached out in various ways to assist in the rebuilding of lives and communities in that area. This year, in a similar way with our community dealing with the pandemic, we honor the past, acknowledge the present, and look to the future with our Festival theme: Kizuna – Strength through Bonds of Community and Friendship.
We are honored to be able to share the culture, tradition, and beauty of Japan with you! We are looking forward to seeing you in April!
Greg Viloria & Miki Katsuyama Novitski
Co-Chairpersons
2021 Northern California Cherry Blossom Festival
About Greg Viloria
Greg is a marketing professional and community organizer who is active in Japantown and San Francisco's startup community. He has worked at the Japantown Task Force (JTF) as a Community Aide supporting JTF initiatives and projects, and before that he has held design, business management, operational and product development roles in the IT and Semiconductor industries. Community involvement is important to Greg. Currently, Greg is the Community Affairs and Marketing Director of the Japan Center Malls and has been a member of the Executive Committee for the Northern California Cherry Blossom Festival since 2013 and actively participates in various festivals and events in Japantown.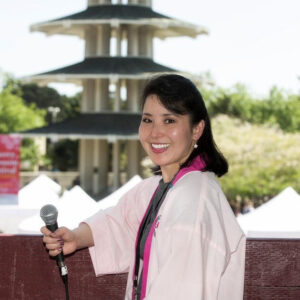 About Miki Katsuyama Novitski
Since childhood, Miki had volunteered for the San Francisco Cherry Blossom Festival – now known as the Northern California Cherry Blossom Festival. She volunteered at the Festival's food booths, performed on stage and in the Grand Parade, served as the Grand Parade emcee, and volunteered in several committees within the Festival. She had been part of the Queen Program committee for over 30 years as a volunteer, choreographer, Court advisor, and/or Program Director, and continues on an advisory level.
Through her work as a Queen Program director and choreographer, she was recruited to choreograph/director for other organizations and events such as San Francisco City Hall's Asian Pacific American Heritage Month Cultural Procession show, the Northwestern Emmy Award Gala, the On Lok, Inc. Annual Fashion Show fundraiser, the Linking Rings Performing Arts/American Legion Cathay Post#384's God Bless the USA cabaret shows dedicated to Veterans and Seniors, the Chinese Railroad Workers Memorial Project Fundraiser, the Miss San Francisco-America Organization, the Miss Asian America/Global, just to name a few. Miki works as an administrator for the Judicial Council of California, and her son and daughter also serve as volunteers in the Festival.
---
On March 11, 2011, the Tohoku region of Japan experienced a magnitude 9.0 earthquake off of the Pacific coast. This underwater earthquake caused a tsunami and a nuclear meltdown at the Fukushima Daiichi Nuclear Power Plant. This tragic event affected many people not only in Japan but also around the world, including our Festival and the broader Japanese American community.
Japan chose 絆 (Kizuna) as the official kanji of 2011 in honor of the strength of emotional ties or bonds forged among their people as they worked together to recover from the disaster. We will commemorate the 2011 Tohoku Earthquake with personal stories by our community members, who have been affected by this natural disaster and made contributions to the Tohoku region's rebuilding and recovery. "Reflections of Tohoku" is truly a story of Kizuna and of the strength of our bonds through community and friendship.