The NCCBF Parade Marshal is a designation bestowed upon individuals who have made a significant impact on the Japanese and/or the Japanese American community through their contributions to society in the United States or Japan.
The NCCBF committee is honored to introduce Yoshihiro "Yosh" Uchida as our 2020 Parade Marshal. Uchida-sensei is a true trailblazer for his efforts to promote judo in the United States. He was the coach of the first US Judo Olympic Team in the 1964 games and has been the coach at San Jose State University since 1947. Uchida-sensei is a shining example of an individual who shares Japanese culture through his passion for the art and sport of judo. We would also like to wish Uchida-sensei a very happy 100th birthday!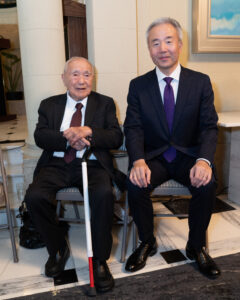 At 100 years old, Yoshihiro "Yosh" Uchida is exemplary in his philosophy, teachings, and achievements. Born in Calexico, California, Uchida began practicing judo at age 10 at a small dojo in Southern California alongside his brother, George. His parents had immigrated from Kumamoto, Japan, and encouraged judo as a way for their children to learn about Japanese culture. When Uchida enrolled at San Jose State University (SJSU) in 1940, he became a student judo coach. With the onset of World War II, he was drafted into the US Army and his family members were sent to internment camps.
After serving four years as a medical technician, Uchida received an honorable discharge and returned to SJSU in 1946. He taught judo, studied biochemistry, and graduated with a degree in biological sciences the following year. Despite his education and experience in the Army, Uchida faced discrimination and could not find a job with any hospital. He was offered a paid position to teach judo part-time by the Director of Athletics at SJSU. Uchida eventually found hospital work through the connections of his good friend, and this experience left a lasting impact.
With Henry Stone, a coach at the University of California Berkeley, Uchida established rules and a weight class system in order to turn this martial art form of self-defense into a competitive sport that is both fair and safe. Thanks to their efforts, the Amateur Athletic Union (AAU) recognized judo as a national-level sport. The first AAU National Championship in judo was hosted at SJSU in 1953. Uchida would then go on to start a pilot program for a national ranking system. By 1962, he had co-organized the first National Collegiate Judo Championships, where his own SJSU team would win the first of many championships.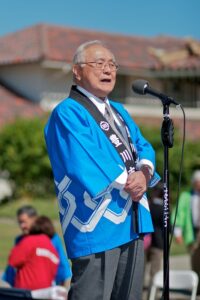 Uchida became the first US Olympic judo coach the first year judo became an Olympic sport. That year was 1964 and the Summer Games was held in Tokyo. Uchida later recounted that representing the US as a Japanese American on such a global stage was one of his most proud moments. There is no doubt that he brought inspiration and hope to the Japanese American community that had endured so much during and after the war.
Outside of the dojo, Uchida was successful in business.  When complimented about the impressive expansion of his medical laboratory business, he responded, "It was much better because from there on, I was able to hire people. And I was able to give jobs to all my friends and people that needed jobs. And also to my judo students that I had. Many of them didn't have jobs" (Angel Island Immigration Station Foundation, 2019).  After selling his company, he helped form the San Jose Nihonmachi Corporation and invested to revitalize the housing and businesses in the Japantown area.
Uchida has received countless prestigious awards which include the Order of the Sacred Treasure with Golden Rays by the Japanese Emperor (1986) and SJSU's highest honor, the Tower Award (1992). He was inducted into the San Jose Sports Authority's Hall of Fame (1996), the SJSU Hall of Fame (1999), the USA Judo Hall of Fame (2008), and SJSU Legends Hall of Fame (2012). His dedication and 70 years of service were also recognized at the SJSU Faculty Service and Recognition Awards in 2018. Perhaps one of his lesser-known yet incredibly special awards was the one he received after SJSU alum Marti Malloy won the bronze medal at the London Games in 2012. She, like other US medal-winning teams, received one Order of Ikkos medal to present to a single coach or mentor and presented this medallion award to Uchida.
Uchida is known for being an advocate for education and leads by example. He embodies the practice of judo on and off the mat through his humility and dedication. He understands the importance of raising the next generations of confident and supportive individuals who can thrive without bringing others down. This legend is truly an inspiration.
Sources: Angel Island Immigration Station Foundation, Cal State, San Jose State University, The Undefeated, Wikipedia