As we shelter in place this spring, have you found yourself making progress with various projects around the house? Are you in the middle of spring cleaning or redecorating your living spaces?! Rearranging a piece or two can certainly freshen up familiar spaces. For inspiration and fun additions to your lovely home, take a look at the following artisans with unique home decor items.
For the full listing of artisans participating in the 2020 NCCBF Virtual Arts & Crafts Fair, go to the marketplace directory page. Spread the positive vibes and love by tagging the artisans and using the hashtags #NCCBFVirtualFair #blossominplace on your social media posts!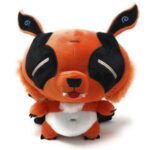 Established in 2011 by creator and artist Menh Voong comes a new brand of iconic art inspired by generations of comics, animation and pop culture. Devotion and passion is instilled in every product, making each piece limited and of the utmost quality. The brand BeeFy & Co continues to develop and grow for your collectible needs!
Designer Irene Arevalo Camerino takes beautiful kimonos and obis, damaged by normal wear, and upcycles them in new ways to preserve them and offer new generations an opportunity to enjoy their beauty and workmanship. She combines her sewing & design skills to create beautiful purses, pillows, wall hangings, and accessories.
"Enjoy a 10% off Spring sale on my Etsy for April & May. All purchases over $35 (after discount) will also be eligible for free shipping!"
Handmade goods featuring authentic Japanese chiyogami papers. Some of the products include wooden jewelry, hair accessories, home decor, stationery, and other gifts/accessories. Everything is handmade by me in Santa Cruz, CA.
Hello Sushi Store is the one-stop Asian gift shop for food-inspired merchandise. We create a variety of products with cute and vibrant designs of your favorite foods. Quality is key and we always want to make sure you are getting the best from us. All products sold by Hello Sushi Store are exclusive to the company and select retailers.
Island Memories SF
We make 100% Soy candles, diffusers, roll on scents, and a whole lot of hand sanitizer!
Beautiful nature landscape photography
Lily's Florist & Gifts
Beautiful bonsai plants and bamboo arrangements for your home enjoyment.
The Real Insect Co.
The Real Insect Co. sells jewelry, paperweights, and desktop decorations using real insects!
Piximix is the best friend you never knew you had. Our unique brand of character-driven design was created just to put a smile on your face, a spring in your step and all that other sunshiney good stuff. We're dedicated to producing the absolute best apparel, accessories, toys and specialty products that our extremely overactive imaginations can produce.