On behalf of the Northern California Cherry Blossom Festival (NCCBF) Executive Committee, we are excited to announce the dates for our 52nd annual event! The Festival will be held on April 13th, 14th, 20th, and 21st, 2019. We will have all of your favorite programs and attractions including the NCCBF Queen Program on April 13th and the Grand Parade on Sunday the 21st.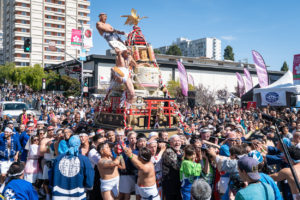 We are proud that we are still the only festival in San Francisco who exclusively allows nonprofits to fundraise through their delicious food booths! If you know of any nonprofits that may be interested in hosting a food booth, please encourage them to contact NPO Food Bazaar.
The NCCBF Executive Committee is currently planning the Festival and excited to reconnect with our partners and participants! Please let us know if you would like to get involved with the Festival in any way. We are seeking the support of potential committee members, sponsors, and volunteers to help us continue the legacy of this incredible San Francisco Japantown community event.
We want to extend our deepest appreciation to those people who have helped us get to where we are today. This Festival has grown to be one of the 10 best Cherry Blossom Festivals in the world thanks to our dedicated committee of volunteers, the generosity of our sponsors, the participation of our exhibitors and performers and the support of our over 200,000 annual festival guests. We are so honored to be able to share the culture, tradition, and beauty of Japan with you! We are looking forward to seeing you next year!
Kiyomi Takeda & Greg Viloria
2019 Festival Co-Chairs
About Kiyomi Takeda
Kiyomi was born and raised in San Francisco and grew up participating in the Cherry Blossom Festival as a performer, parade participant, and volunteer. She has been active on the NCCBF Executive Committee for over 10 years and has had the honor of serving as the Festival Co-Chair for the past two years. She also serves as the Board Chair of the Nichi Bei Foundation and is a member of the New Generation Nikkei Fund, Asian Artisan Chair of the Nihonmachi Street Fair, the Japantown Chounaikai. Kiyomi works as an Occupational Therapist and lives in the Japantown area with her husband, daughter and two bunnies.
About Greg Viloria
Greg is a marketing professional and community organizer who is active in Japantown and San Francisco's startup community. He has worked at the Japantown Task Force(JTF) as a Community Aide supporting JTF initiatives and projects, and before that he has held design, business management, operational and product development roles in the IT and Semiconductor industries. Community involvement is important to Greg. He is a member of the Executive Committee for the Northern California Cherry Blossom Festival and actively participates in various festivals and events in Japantown.