Always regarded as sacred, the taiko drum was first used to bring favor from the Kami, and ward away evil spirits and pests harmful to crops. It was believed that the rain spirit would be forced into action if one imitated the sound of thunder during times of drought. The taiko was joyfully beaten to express gratitude for a bountiful crop during harvest.
In the 1968 formerly called San Francisco Cherry Blossom Festival, a performance by Grand Master Seiichi Tanaka inspired Americans and Japanese to learn and perform taiko in a modern day ensemble setting. Today, a cultural renaissance has taken place in America and Japan, leading to a rediscovery of native arts and culture. Taiko drummers have popularized and revolutionized the art around the world.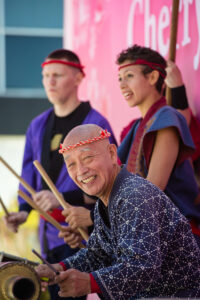 Grand Master Seiichi Tanaka and San Francisco Taiko Dojo
San Francisco Taiko Dojo was founded in 1968 by Tokyo-born Seiichi Tanaka, who is widely considered the father of modern taiko in North America. In the last decade, Taiko enthusiasts, Tanaka Sensei and SF Taiko Dojo have redeveloped taiko from its primitive folk art roots to a powerful, sophisticated synthesis of rhythm, harmony, and body movement. Today, it is a rigorous mental, physical, and martial arts training combined with musical talent to form a unique, resonant style.
In the school's history, over 15,000 men, women, and children from all walks of life, have studied under Tanaka. These students have gone on to establish over 250 other taiko groups throughout the United States and Canada and further around the world. Tanaka Sensei and SF Taiko Dojo have collaborated with a number of renowned artists, including Art Blakey, Tito Puente, Tony Bennett, and Dave Brubeck; they have also been featured in the movie soundtracks for "Apocalypse Now" and "The Right Stuff," and casted in "Return of the Jedi" and "Rising Sun." Grand Master Seiichi Tanaka has been recognized by many accolades such as the 2001 U.S. National Endowment for the Arts: National Heritage Fellowship and in 2013 Japan's Order of the Rising Sun 5th Order: Gold and Silver Rays by Emperor Akihito.
SF Taiko Dojo currently offers classes for students of all levels and ages in San Francisco Japantown and in the South San Francisco Dojo. Learn more at their website, San Francisco Taiko Dojo, and at Facebook/Instagram/Twitter @SFTaiko. At a future in-person Festival, find SF Taiko Dojo at the Japantown Peace Plaza Stage and in the Grand Parade!
Cherry Blossom Taiko Festival
At a future in-person Festival, SF Taiko Dojo will produce the Cherry Blossom Taiko Festival and invite local taiko groups and special guests from Japan. This taiko festival will be one night only, taking place in the early evening of Saturday in our Festival's second weekend at the Japanese Cultural and Community Center of Northern California (JCCCNC/the Center). You don't want to miss this lively, heart pounding concert performance! Please note that this event requires a separate registration and admission fee. Register for tickets and read more details at sftaiko.com.