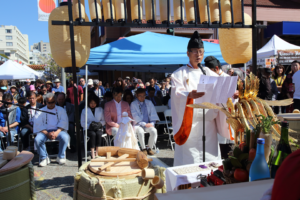 The Mikoshi purification ceremony is conducted every year with representatives of the spiritual community of Japantown and also with representatives from Japan. The ceremony represents rites that helps bring peace and harmony to the area of the festival and that of the spirits embodied in the Mikoshi. The ceremony includes both the Taru Mikoshi and the Mikoshi from Kanda Myojin.
Kanda Myojin began its relationship with the SF Cherry Blossom Festival 16 years ago when it donated the Mikoshi, which has since been carried in the grand parade. A purification ceremony is conducted by Kanda Myojin priests on the Saturday before the parade. The Kanda Myojin Shinto temple is located in the Kanda area of Tokyo.
Both ceremonies are conducted before noon on the Saturday of the second weekend of the festival.