Visit the
Program Night
page for additional information and to purchase tickets
The Northern California Cherry Blossom Queen Program is dedicated to mentoring young women so they may develop the leadership skills and community connections necessary to promote not just stronger individuals, but also a stronger community.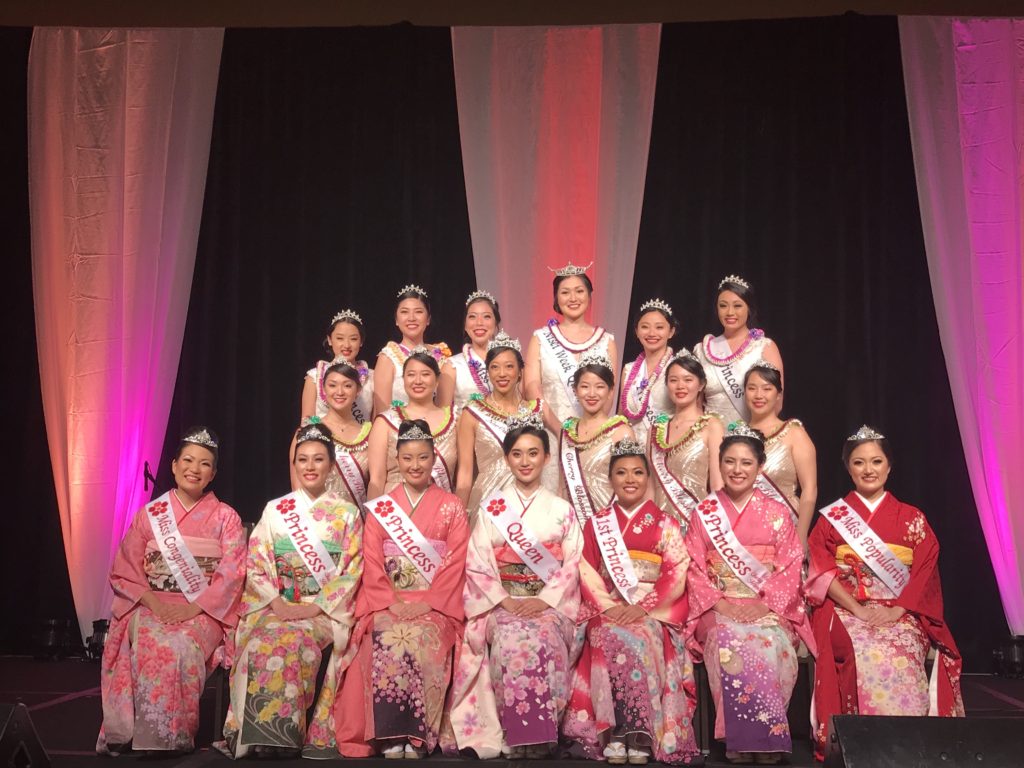 2017 Queen Jacquelyn Kimiko Chew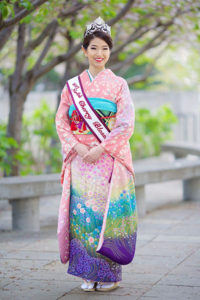 On behalf of the 2017 Northern California Cherry Blossom Festival Court, it is my pleasure to welcome you to the 51st annual Northern California Cherry Blossom Festival. Over the past year, Ayame, Hilary, Kelli, Kellie, Sydney, and I have had an incredible experience immersing ourselves in the Japanese American community. We've been humbled by the love and support we've received, and feel truly grateful for the innumerable opportunities we've had to connect with our heritage and culture. Though we've been given so much, the greatest gift of the past 12 months has been the sense of purpose we've developed by being part of something bigger than ourselves.
Volunteering at community events throughout Northern California has taught us the power of kizuna, or shared bonds – how the individuals, non-profits, and businesses that comprise our community are able to support one another through the strength of our connections to each other. Nothing can ever erase our memories of the magical moments created through our community kizuna, like a child excited to win a Momotaro art contest at Kodomo no Hi, a proud 442nd Regiment veteran being commemorated at the National Japanese American Historical Society's Tribute to Nikkei Veterans, or congregations across faiths working together to fundraise for youth theater at the Japanese American Religious Federation Curry Cook-off. Not only have we have witnessed first-hand the power our community's deep bonds, but we have also discovered our own ability to contribute to the community's greater strength. Whether it was selling raffle tickets to fundraise for senior citizens programs or running game booths at temple bazaars to create fun activities for families, we have seen the difference we can make when we show up for our community and when we open our hearts to one another. It has been inspiring to work with so many community groups and leaders and see the good we can do through our acts of service.
Outside of Northern California, we experienced the same community spirit while visiting our sister Courts in Los Angeles and Honolulu during Nisei Week and Cherry Blossom Festival Hawaii and during my goodwill visit to Tokyo and Osaka, Japan. The vibrant communities in each city we traveled to welcomed us with warm hospitality and exemplified the meaning of kizuna. It was amazing to see how our community bonds expand beyond regions, states, and countries and how we are able to strengthen each other through our deep-rooted friendships. Through our travels, we are so lucky to have been connected with our Court sisters and extended community members who have become like family.
This past year, we ourselves have grown so much in our leadership, compassion, and courage thanks to this community. Our very own Queen Program sponsors and Committee invested in each of our personal development, believing in our potential to shape the future of the Northern California Japanese American community. Thank you so much to our candidate sponsors the Japanese Chamber of Commerce of Northern California, Benihana, Friends of the Golden Gate Optimists, Nikkei Lions of San Francisco, Nihonmachi Street Fair, and Takara Sake USA Incorporated for allowing us to embark on this journey as a Court and to Japan Airlines and the Fujiyasu Kimono Company for providing me with so many rich, cultural experiences. And a huge thank you to the Queen Program Committee members for their hard work to make this opportunity possible. We are forever indebted to the kindness and generosity of all of these organizations for helping us become the women we are today, and we promise to make good on the faith that has been put into us. We are excited to continue to do our part in sustaining this community and we can't wait to see what more we can achieve, together.
Once a year through the efforts of hundreds of volunteers, non-profits, corporate sponsors, small businesses, artists and performers, we are able to bring people together and showcase the culture, heritage and spirit of the Japanese American community. As a traditional arts performer and now representative of the Northern California Cherry Blossom Festival, I am especially proud of the diversity this event brings to the region and the empathy that it builds by bridging cultures. So whether this is your first or 51st time at the Northern California Cherry Blossom Festival, we sincerely hope you enjoy this year's festivities and see for yourself what makes this community so special. It is our honor to welcome you to the Northern California Cherry Blossom Festival and to our community. ようこそ!
For more information on the Queen candidates, visit the Program's website.
More information regarding Program Night and purchasing tickets can be found on the Queen Program website.