2017 Grand Marshal – KONISHIKI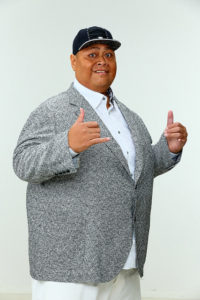 KONISHIKI is a former sumo wrestler of Samoan descent. He was recruited by Takamiyama of the Takasago stable and started sumo in 1982, at age 18. He was recognized for his potential and received the name "Konishiki" after the 17th Yokozuna. Just five years later, KONISHIKI became the first non-Japanese born sumo wrestler to reach Ozeki, the second highest rank. During his 15-year career, he won 3 championships in the top Makuuchi division and amassed 733 wins. He paved the way for other foreign-born sumo wrestlers.
After his retirement in 1997, KONISHIKI turned his talent to music and entertainment. He has released ten albums and is known to sing or rap in a mixture of English and Japanese. He also hosts a Japanese children's television show called Nihongo de Asobo ("Let's play with the Japanese language"). In addition, KONISHIKI established the Konishiki Kids Foundation, a program that mentors children from the Waianae Coast in Hawaii and provides an opportunity to spend a week in Japan, immersed in traditional customs.
In the months following the devastating March 2011 tsunami in Northeastern Japan, KONISHIKI organized a humanitarian mission to aid victims living in emergency shelters. Along with 21 volunteers, he cooked chankonabe, a common stew eaten by sumo wrestlers with a wide variety of ingredients, and they fed an estimated 5,000 people at five shelters! At times, KONISHIKI bought fresh produce for the stew and emergency supplies out of his own pocket. His friends supported the relief work by providing funding and trucks. Given KONISHIKI's personality and contributions, it is no surprise that he has a loyal fan base and remains very popular today as when he was a sumo wrestler.
2008-2016
2016 – Norman Y. Mineta
Retired Secretary of Transportation, Norman Y. Mineta is the President and CEO of Mineta and Associates, LLC and former U.S. Secretary of Commerce and U.S. Secretary of Transportation. He is well known for his work in the areas of transportation—including aviation, surface transportation and infrastructure—and national security. He is recognized for his accomplishments in economic development, science and technology policy, foreign and domestic trade, budgetary issues and civil rights.
1998-2007
1988-1997
1978-1987
1968-1977