The Webster Street Stage began in 1993 to promote Bay Area contemporary musicians and performing artists. It has provided Asian Americans and entertainers of various backgrounds a venue to showcase their talent. From hip-hop to reggae, jazz to Top 40 R&B, and acapella, the Webster Street Stage lineup has always been exciting to watch. Come join in a full day of music and fun!
2018 Webster Street Stage Performers
The Aura Band
DO YOU FEEL THAT AURA AROUND YOU!!!
The newly revamped AURA is a group of young talented teens and well experienced musicians whose music genre includes pop rock, latest contemporary hit songs, and popular hits of the 80's. When you hear them play, you cannot resist to groove and move with their music. You can't help say Aura rocks!
The Aura has been performing regularly in popular bar and grill around Bay Area in Union City and San Francisco as well as various private events. Band members include:
Mycah—lead vocals
Grace—second vocals
Francisco—drums/vocals
Lyndon—guitar
Ulysses—bass
Joey—keyboard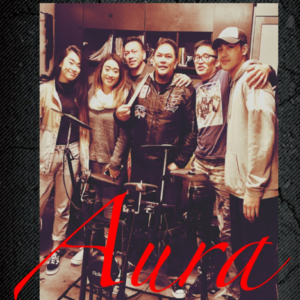 Big City Revue
BIG CITY REVUE live in concert at Cherry Blossom 2018! Covering every musical style from Old School, Motown to Current Hits. Big City Revue plays, delivers in the true jam packed exciting live performances they are known for!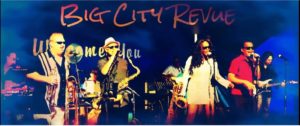 D'Groove
D'Groove is a truly versatile party band. In its standard configuration, D'Groove is an eight-piece band featuring a standard four-piece rhythm section.
Their soulful singing is combined with irresistible rhythms and fresh-rap-breaks showcasing their exciting power, range, and versatility – ensuring a night of high caliber entertainment and non-stop dancing. The band's grown and sexy front line and mature back line, and cultural diversity easily relates to audiences of all ages and backgrounds. Established for more than 25 years (since 1990), D'Groove's simple concept of playing the latest dance tunes, most heartfelt ballads, classic old school, and favorite standards assures a good time for all.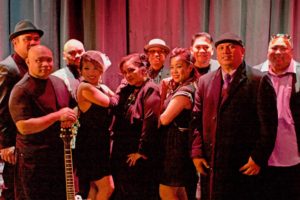 Elima 5
5 individuals, from 5 different backgrounds, who play an eclectic range of music from Traditional & Contemporary Hawaiian to Pop/Soul, R&B, and Rock. Throw in some Blues and Funk, and we'll break it down!
Superb vocals combined with the smooth beat of the Arroyo Cajon, and the rhythmic energy of Elima's O'Neill Bass. Elima provides a harmonic and unique blend of music and vocals, wrapped up and delivered with melodic lines of supporting lead and rhythm guitars.
Our diverse background in music (from Rock, Musical Theatre, Bluegrass, Hawaiian, Blues etc.) allows us to explore an eclectic range of genres and keeps us continuously growing as musicians. There's a little something for everyone in our music.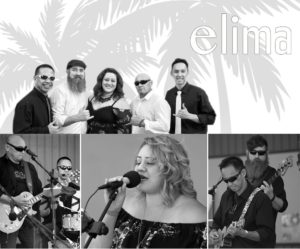 The Get Lucky Band
BOLD, STRONG, AND HIGHLY CONTAGIOUS! GET LUCKY brings a fresh, new vibe of entertainment to the Top 40 cover band scene. ARE YOU READY TO GET LUCKY?
Get Lucky is one of the hottest bands in the San Francisco Bay Area featuring vocalist Butch Lavin and Jae Buensucesco. They play everything from Jazz Standards, Pop, R&B, Alternative, House & Retro while mixing them with the newest TOP 40 songs. If you've heard it on the radio they play it!
Get Lucky is successful with astonishing confidence and noticeable ease in keeping the atmosphere fun & interactive with the audience. From the minute they step out on stage, they guarantee to keep the dance floor packed and moving. Get Lucky knows how to get a crowd singing, dancing, and wanting more!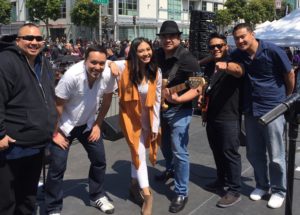 The Groove Foundation
The Groove Foundation was founded in 2008 by Drummer, Fred Torres. The band's shared vision is to combine musical excellence with visual appeal, to provide the Groove Foundation's clients with an unforgettable experience. Although The Groove Foundation is capable of playing many genres of music, including rock, jazz, and standards, the musical nucleus of The Groove Foundation is Top-40, R&B. The music is tight, and energetic, with a groove that's sure to get the audience out of their seats, and on the floor!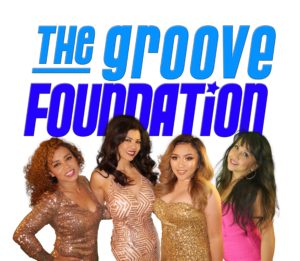 Haulin' Oats
"They are the most successful duo in the history of Pop Music!" is one of the first things you will hear coming through the speakers at a Haulin' Oats concert! Haulin' Oats is a tribute to the legendary music of Daryl Hall and John Oates. Formed out of the sheer need for more Hall and more Oates and a deep respect for one of the greatest catalogs of music ever written and composed, Haulin Oats is a tribute experience that is not be missed. With hits like Sara Smile, Maneater, I Can't Go For That, Kiss Is On My List, You Make My Dreams Come True, and Private Eyes, the musical memories come flooding back!
Jake Haulins musical journey began in Louisiana where his roots were grown in soul and gospel music. He made his way to the West Coast over 10 years ago and fell in the love with the Bay Area the first time he ever set foot on the piers of San Francisco. Jake is an accomplished vocalist having fronted various bands, toured with and provided background vocals for Michael McDonald. He has a true passion for Hall and Oates and their music and he is proud to be fulfilling a long time dream of starting a Hall and Oates tribute band… a dream that is now a reality hitting stages in a city near you.
Naturally you cannot have a Hall and Oates tribute band without having the perfect sidekick. ChiChi Oats fits this role with ease and serves as the other half of the duo. ChiChi was born in New York City and raised in the Dominican Republic before making the move to the Bay Area where he makes his home today. An accomplished guitarist and vocalist ChiChi Oats grew up listening to the albums H2O and Big Bam Boom not knowing that one day he would grace the stage donning that famous caterpillar mustache.
An energetic combination of stage personalities joined by some of the best musicians from the Bay Area make every Haulin' Oats show a momentous affair. Hit after hit flows from this highly talented group as they take you on a chart-topping musical journey. Decades of instantly recognizable hooks are guaranteed to please audiences of all ages. Don't miss your opportunity to catch the next Haulin' Oates show!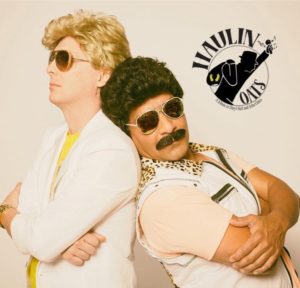 Hawaiian Royalty Music
Most of the band has known and worked with each other for years. 4 of them belong to the Hawaiian Music group "Pōmaika'i" with the only female band member serving as the designated hula dancer.
JD, Kaluna, Ray, Art, Kanoe first came together in 2017 to join forces and making a group that showcases all their love for reggae music. JD is the percussionist and floats between guitar, bass, and some keys. Kaluna rocks the lead guitar and gives the group that east bay swag. Ray rips it on ukulele and keys giving Hawaiian Royalty that Hawaiian Sound. Art fills it in with solidifying bass lines, while Kanoe's vocals brings that much needed female touch to the group.
Late in 2017, Mike Ponce was added as the groups drummer bringing in that one drop drum beat. In early 2018, Jay was bought in to take the lead on Keyboards and make this collective even tighter than before. These seven talented musicians brings forth worthy positive reggae vibes, with strong harmonies and dynamic transitions.
Keep an eye out for Hawaiian Royalty Music doing shows in the Bay Area!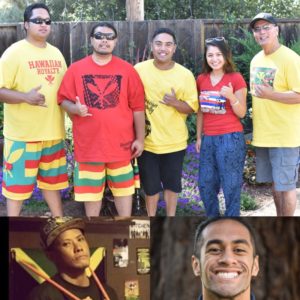 Jest Jammin'
Led by the Rev. Norman Fong, Jest Jammin' aka "Chinatown Soul Band", has entertained the public for over 50 years. In 1968 Norman Fong, Brad Lum, & Ed Toy, got together with a couple of other friends, formed a band that was unnamed until 1971 when they added more members and officially called themselves Jest Jammin'. They are the last of the "Local Chinatown bands" from the 60's and 70's, and are still enjoying a popularity from an enthusiastic public. Historic in San Francisco's Chinatown, and comprised of "home grown" talent, Jest Jammin' has been performing their wide repertoire of music from the soulful 60's and 70's, including tunes from recent decades. They can be seen in numerous venues throughout Northern California, from college campuses to large public functions. The band members have "grownup" to various careers, but remain close friends and continue to enjoy accommodating requests to perform their energetic music.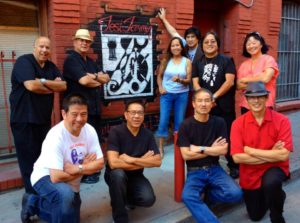 Rendezvous
Come get down and groove to the jammin' sounds of Rendezvous! Bringing the party to San Francisco Bay Area shows since 1995, Rendezvous has been igniting the dance floors, and jumping the crowds out of their seats with their vibrant vocals and highly spirited, upbeat performances. Whether it's R&B, Motown, Rock, Disco or Top 40, they are sure to get you shaking your hips and tapping your feet to your all-time favorites as you dance the day away!
Rendezvous' members have over 25 years of passionate musical experience playing at various events, including special performances at Street Fairs, Festivals, Musical Showcases, Weddings, Restaurants, and Clubs.
Ladies and Gentlemen … RENDEZVOUS!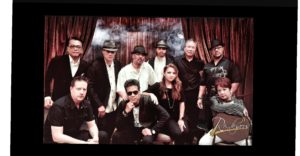 Soul'd Out Band
Soul'd Out is a San Francisco Bay Area based cover band, specializing in RnB and Top 40 hits from today and yesteryears. Featuring vocalists Jannel Candrice and Johann Michael, who's been performing together for many years, along with musicians Brian Braziel (on Drums), Tim Wat & Chris Duenas (on Keyboard), Michael "Tiny" Lindsey (on Bass), Jay Viray (on guitar) — Soul'd Out!! The name speaks for itself!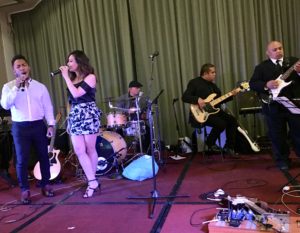 Yamasho Kai
The folk song, "Kawachi Ondo," accompanies Bon dance in the Osaka/Kawachi region of Japan with over 600 years of history. Shogo Yamada will lead Yamasho Kai in performing Kawachi Ondo. Originally played with only two traditional instruments (taiko and shamisen), the song is now played with electric, guitar, bass guitar, and keyboard. Please join them in enjoying this cheerful dance.