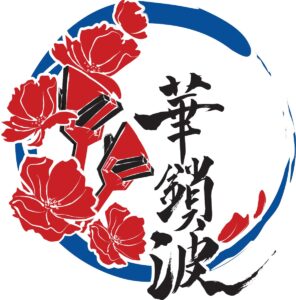 Kazanami 華鎖波 was started by Ito Yosakoi to establish a formal annual yosakoi exhibition in the United States and promote yosakoi as a growing art form, as well as build a broader community among yosakoi teams in the United States. Daniel Rolandi, director of Ito Yosakoi, wrote a blog to share how they got started at our Festival.
Yosakoi is an energetic dance style from Kochi, Japan. The name "Kazanami" is derived from the characters for flower, chain, and wave. It means a wave of flowers connected by iron chains, symbolizing dancers moving in a parade and the strong connection amongst them.
Ito Yosakoi extended invitations outside of the U.S. for this year's performance, and we want to thank Ray Wong of Kollaboration SF for putting together this video. We are honored to have 15 yosakoi dance groups from around the world to join our 2021 Festival virtually. Please note that Tatsumaki Yosakoi has two USA chapters in Manhattan, KS and Kansas City. They will be performing two dances called "Hifumi" and "Soran Bushi," also known as "Nanchuu Soran."
Grupo Sansey グループサンセイ
Facebook @GrupoSanseyLondrina, Instagram/TikTok/YouTube @gruposansey
Yosakoi Soran dance
Yosakoi Soran was started in Grupo Sansey by the initiative of professor Tanikawa Satoru from Japan, who handed over an video tape of the Yosakoi Soran dance "Dokkoisho" to a group of young members of Grupo Sansey in Londrina-PR. Throughout the years, Grupo Sansey has produced its own Yosakoi Soran songs and choreography and has won 8 Grand Prix from Festival Yosakoi Soran Brasil, from the years of 2005, 2006, 2007, 2009, 2010, 2011, 2014 and 2015. Grupo Sansey participated in the Yosakoi Soran Festival, in Sapporo, in 2008, and was the first foreign team to compete in the same Festival, in 2012.
Contact: sansey.ys@gmail.com

Ito Yosakoi 糸よさこい
Facebook/Instagram @itoyosakoi
Yosakoi dance
Ito Yosakoi is a community yosakoi dance program of the Center/Japanese Cultural and Community Center of Northern California (JCCCNC) located in San Francisco Japantown. We were founded in January 2017 to promote yosakoi as a cultural art and support the Japanese American community through dance. Our name "Ito" (糸 "Thread") emphasizes the relationships woven together between members of a community, and highlights Ito's goal of weaving dance and community together.
Contact: itoyosakoi@gmail.com
Kawa Tatsu Yosakoi 川龍よさこい
KTYD's YouTube
Yosakoi dance
Affectionately nicknamed KTYD by its members, the Kawa Tatsu Yosakoi Dance team was founded in 2009 at Minnesota State University Moorhead. They are named for both their University's Dragon mascot and the Red River which separates North Dakota and Minnesota. The team's goal is to bring smiles to everyone's face through their performances.
Komainu Yosakoi Lyon こまいぬよさこいリヨン
Facebook @KomainuLyon, Instagram @komainu.yosakoi, Twitter @komainu_yosakoi
Yosakoi dance
Komainu is a French team located in Lyon and consists of 30 dancers. Created in 2018, we participate in events everytime and everywhere we can in France or outside! We look forward to dance with foreign teams in the near future <3
Kosei Yosakoi Paraguay
Instagram @kosei_yosakoi
Yosakoi dance
Kosei, meaning kōchi-styled yosakoi and seinen (youth), is a team created in 2010, Asuncion-Paraguay, by Maki Nishikawa, who after studying in Japan was motivated to create a yosakoi group. This group is formed by 25 Nikkei members from 2nd and 3rd generation, mostly integrated by students. Since then, the cultural dance has been spreading around all the Paraguayan cities and awakening interest in kōchi tradition.
MinnesoDance
Yosakoi dance
MinnesoDance began in July 2020 and is a group of yosakoi enthusiasts from Minnesota, USA and other states. The majority of our practices have been online due to the Covid pandemic, but we are hopeful that we will be able to dance together in person again soon.
Pikes Peak Yosakoi Ōbirin パイクス・ピークよさこい桜美輪
Facebook @PikesPeakYosakoi, Instagram @pikes_peak_obirin_yosakoi
Yosakoi dance
Pikes Peak Yosakoi Ōbirin started in winter 2017 in Colorado Springs, Colorado. The name Ōbirin comes from their sister group Koshigaya Yosakoi Ōbirin in Saitama Prefecture, Japan. They were certified in 2018 as Yosakoi Ambassadors by the governor of Kochi Prefecture.
Ryo Kochi Yosakoi
Facebook @ryokochiyosakoi, Instagram @ryo.kochiyosakoi
Yosakoi dance
Ryo is a group created in São Paulo, Brazil, in 2017 to promote and disseminate the yosakoi of Kochi Prefecture. The name "Ryo" (龍) comes from Sakamoto Ryoma, an influential samurai, and Ryo Mizuno, the father of Japanese Immigration in Brazil – both were born in Kochi. The group was certified as Yosakoi Ambassadors in 2018 by the governor of Kochi Prefecture. We take part in festivals interacting with the public by teaching Seichou Odori and spreading Kochi's culture as well.
Contact ryo.kochiyosakoi@gmail.com
Sakuramai Poland 桜舞ポーランド
Facebook @sakuramai.poland2012, Instagram/Twitter/YouTube @SakuramaiPoland
Yosakoi dance
Sakuramai Poland was established in 2012, as a sister team of Canadian team, Sakuramai Toronto. We are located in Poland and have divisions in two major cities – Cracow and Warsaw. Since 2016, we proudly conduct our activities as Kochi Prefecture Yosakoi Ambassadors. We are a small Polish-Japanese community built on international friendship and joined by a common passion for energetic yosakoi dance, which we want to share with everyone around!
Tatsumaki Yosakoi
Facebook/Instagram @ksutatsumakiyosakoi
Yosakoi dance
Originally called Kansas State University Japanese Yosakoi Dance Club started in 2005, the name was changed to Tatsumaki Yosakoi as members include both students and community members. Tatsumaki, meaning Tornado, was chosen as Kansas is often associated with tornadoes ("Wizard of Oz"). Also, our team performed a dance, "Tatsumaki" in 2007, the first American team to participate at the Sapporo Yosakoi Soran festival. Our group was certified as Kochi's Yosakoi Ambassadors in 2018. Tatsumaki is based out of Manhattan, Kansas, but has recently expanded to include a branch in Kansas City as well.
UZUMARU 渦丸
UZUMARU's Facebook, Instagram @uzumaru_official, UZUMARU's YouTube
Yosakoi dance
Uzumaru is a yosakoi team from San Jose Japantown that was founded in December 2017 by Ikumi Sekiguchi. The name "Uzumaru" comes from "uzu" (渦 / whirlpool) and "maru" (丸 / circle). "Uzu" symbolizes Ikumi's desire to draw the audience into the joy and excitement of yosakoi, while "maru" symbolizes the Japanese flag. Uzumaru hopes to enthrall the audience with their performances, and have each member's heart and soul shine through their dancing.
Yosakoi Dance Project – 10tecomai 天手古舞
Facebook @10tecomai, Instagram @10tecomai_yosakoi
Yosakoi dance
Based out of New York City, for 16 years, our goal has been to spread knowledge of the wonderful celebratory style of dance known as yosakoi across the United States. Last year, we performed throughout the pandemic through online yosakoi workshops and virtual performances in many different places including California, Indiana, Germany, and even Japan. We continue to perform and dance to give positive energy to the world and the hope for a better future for everyone.
Yosakoi Paris Hinodemai よさこいパリ日の出舞
Facebook @yosakoi.paris.hinodemai, Instagram @yosakoiparishinodemai, Twitter @Hinodemai_Paris, Yosakoi Paris Hinodemai's YouTube
Yosakoi dance
We are the French yosakoi team from Paris. Our team was created in 2014 by Japanese expatriates and we became Kochi Yosakoi Ambassadors in 2016. We were also founding members of Fédération de Yosakoi de France and organized the Yosakoi European Show (we broadcasted an online show in March with 10 teams). Today, we are a cheerful team of around 25 members.
ZEN 燃 Yosakoi Melbourne
Facebook @zen.yosakoi.mel, Instagram @zen.yosakoi
Yosakoi dance
Zen Yosakoi Melbourne was established in 2015 to share the joys of yosakoi and Japanese culture, and to create a place for everyone to make friends. We currently have members from various backgrounds and countries, including Australia, Japan, Vietnam and Malaysia. We always aim to bring smiles to everyone with our performances!